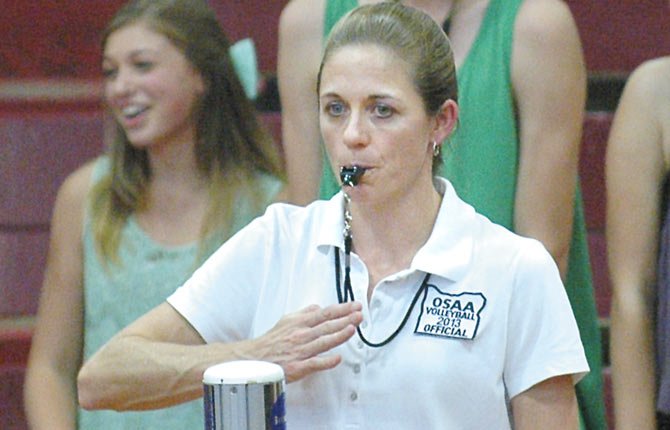 There are a select few individuals in the officiating world who can stake claim to winning the highest honor amongst their brethren.
Paul Bish has that distinction, and so does Bob McFadden.
Now add Amanda Payne to the list.
Payne, out of Wasco, was awarded the Oregon Athletic Officials Association Volleyball Official of the Year award last Saturday in Redmond.

Not one to over-hype the notion, Payne said she was very humbled by the award received, as she is not accustomed to the notoriety.
"There are so many great officials throughout Oregon that have been officiating a lot longer than me that deserve this award," Payne said. "It is a great honor."
To make their picks, each officiating faction has the option to nominate one person from their association every year, so anywhere from 10-15 are selected.
A selection committee from both the OAOA and Oregon School Activities Association (OSAA) offices then reviews all of the résumés of each candidate and they make their final determination based on that.
Another member of the Mid-Columbia officials' ranks, Jeff Justesen, called it a big deal for the region, adding that when an individual gets such an award, it says something about the quality of officials that the organization has working on a nightly basis.
While the names of the officials are long and esteemed, she is the first of this local cast of volleyball officials to earn this high honor.
"Amanda getting this award recognizes not only her abilities as an official, but highlights the efforts she has put in to improving the quality of volleyball officials in our area," said Justesen.

Justesen added that as president of the local association, Payne has worked hard to assure her fellow officials attend clinics and get the training necessary to improve their individual skills.

It has been a labor of love.
"She also works tirelessly to recruit new officials, which can prove to be a difficult task," Justesen said. "We are a small, tight-knit group and I think that having Amanda win this award is something that we all can feel we contributed to and something we all share a small piece of."
Growing up in Wasco, where she still lives, the Sherman High School graduate has been around sports for her entire life, playing volleyball and basketball, running track, and up through the Babe Ruth ranks, baseball.

Of those sports, Payne achieved all-league status in volleyball and basketball in her final three seasons of varsity competition, capping her senior campaign as a unanimous first team volleyball selection for her exploits as a setter.
Once her playing career was over, it was natural for Payne to still be involved with athletics in any way, so officiating was the right avenue to pursue.
She just completed her 14th season and she has officiated three 2A/1A and one 6A/5A state tournament.

At last week's ceremony, in front of a capacity crowd at Ridgeview High School, moments before the 1A state championship match, Payne stood front and center to a cascade of cheers for her achievement – admittedly, she was more nervous to stand in front of a large crowd to receive the award than to officiate that game.

"It's good (and normal) when the attention is on the kids," Payne said. "Because we don't officiate for the attention – much less get an award."
One proud observer in the stands offering hearty congratulations was long-time Dufur High School volleyball head coach, Kelly Darden.
Darden herself has won countless awards and recognition to popularizing the sport over the years.
Seeing a local official gain acknowledgement brings out a special feeling of pride.
"Amanda has been officiating for a long time and always does a great job," Darden said. "The Big Sky League, as well as the Columbia River Conference, has some of the best officials in the state. It's great to see Amanda recognized for her hard work and professionalism on the court – A well deserved award."