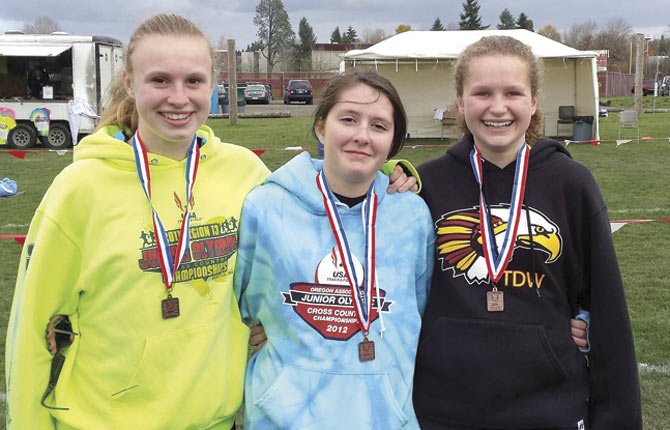 While the high school cross country season is in the rear view mirror, 13 harriers representing The Dalles Middle School and The Dalles Wahtonka High School participated in the state Junior Olympics championship Saturday on the campus of Western Oregon University in Monmouth.
Of that core group, 11 runners qualified to take part in regionals this weekend.
Each participant needed to place 35th or better to punch a regional ticket, and six notched top-10 finishes.
Leading the way in the 17-18 year old classification were Maddie Wood and Tai Rogers.
In their 5k event, Wood stopped the watch in a solid 20 minutes and 10.9 seconds to beat the field for first place. Rogers was right behind in second place with a 24:46.5.
Also on the girls side, Emily Morin churned out a 20:13.5 to capture third place in the 15-16 division, and teammates Avery Cardosi (21:07.9) and Katie Burns (21:54.2) both wound up in the top-10 overall.
Molly Nelson competed in the 4k run for 13-14 year olds, and busted loose for an 18:20.4 for 31st place to round out the high school participants.
Jenna Miller, of TDMS, took her turn in the 11-12 3k run and motored home in 12:13.6 for 13th in the results.
There were six male harriers committed to racing this past weekend, and Ian Corey had the best time of the bunch with a 20:23.9 for ninth place in the 17-18 class 5k.
Jony Nelson garnered an 18:31.4 for 15th in the 15-16 division 5k, and fellow runners, Andy Felderman (18:49.9, 17th place) and Ethan Shubert (20:24.1, 23rd place) put in fast times of their own to move on to regionals.
Peter Cardosi signed on the run in the 13-14 4k event, and he managed 44th place where his 16:32.9 put him just outside of the regional mix.
Also from TDMS, Julius Johnson took a run in the 11-12 3k race and clocked in at 14:54.4 for 59th in the standings.
For more information on Junior Olympics, go to www.usatf.org.