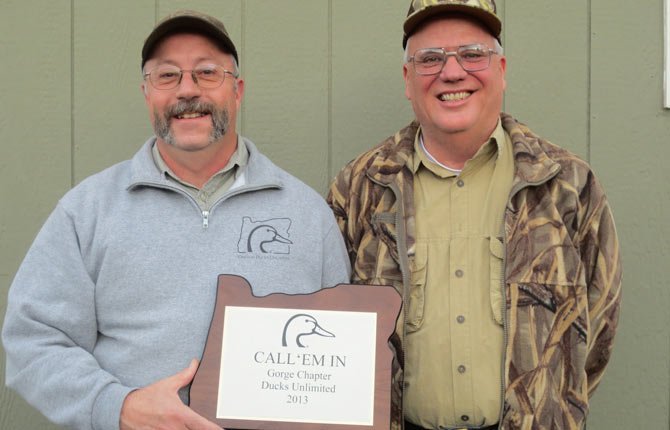 The Gorge Chapter Ducks Unlimited received the 2013 "Call 'Em In" award at the recent Oregon Ducks Unlimited State Convention for having more than 60 percent of their fundraising banquet attendees return from the previous year.
The Gorge Chapter was the only chapter to win this award out of more than 40 Oregon chapters.
The Gorge Chapter is consistently one of Oregon's top five fundraising chapters and has held 28 consecutive local fundraising banquets.
Ducks Unlimited conserves, restores and manages wetlands and associated habitats for North America's waterfowl. These habitats also benefit other wildlife and people.
Since its founding in 1937, Ducks Unlimited has raised more than $3.5 billion, which has contributed to the conservation of more than 13 million acres of prime wildlife habitat in 50 states, each of the Canadian provinces and key areas of Mexico, according to information provided by the organization.
In the U.S. alone, it has helped to conserve more than 4.7 million acres of waterfowl habitat. Some 900 species of wildlife live and flourish on Ducks Unlimited projects, including many threatened and endangered species.
Ducks Unlimited volunteers raised more than $450,000 dollars in Oregon in 2012 to help fund wetland and waterfowl habitat improvements on almost 100,000 acres in the state.
It currently has more than 50 active habitat restoration and enhancement projects under way throughout Oregon, many in the lower Columbia estuary and on Sauvie Island.