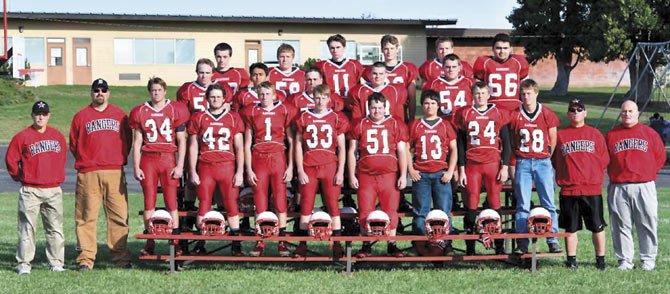 Although a trip to the state championship game fell two games short, the Dufur Ranger football team finished the season highly acknowledged for its solid 2013 campaign with seven players picking up Big Sky Conference honors.
In addition to the league fanfare, senior starting quarterback Cole Parke grabbed his second straight Player of the Year award, and 27-year head coach Jack Henderson was named by his peers as Coach of the Year.
Trever Tibbets, Austin Olson, Nick Little, Parke, Jake Little and Brent Sumner each had their names called as first-team recipients.
Olson, Parke and Jake Little were first teamers on both sides of the ball.
It was a great way to send off the two seniors on the team, Parke and Olson.
"Cole's leadership at quarterback was instrumental to our success and will be sorely missed," Henderson said. "Austin Olson finished a fine career for Dufur on both sides of the ball."
Overall, the Rangers finished with an 11-1 record, went 5-0 in league play to chalk up a second consecutive league crown, had the state's second-best scoring offense with 698 points scored (58.1 a game), and were ranked as high as No. 2 at the 1A level.
Along with those numbers, the team helped lead the charge for Henderson to chalk up his 200th career coaching win.
Much of that offensive success was due to the standout line play put forth by Olson, Brent Sumner (first team offensive lineman) and Zach Christiansen (second team defensive lineman).
"Our line play improved immensely through the season," Henderson said. "Brent Sumner improved a great deal and became a force for us and will be an all-state player as a senior. Zach Christiansen improved a great deal and will be a force for the Rangers over his last two seasons."
While Tibbets did top work on defense to earn first team status, his hard running style and versatility proved to be dangerous on Friday nights.
Tibbets rushed 153 times for 1,320 yards, and he finished second on the team with 41 catches 653 yards and 15 touchdowns.
Those numbers were good enough for a spot on the second team.
Parke ended up being a dual threat on offense for a Ranger team that scored 60 points or more six times.
In all, the senior carried the ball 93 times for 643 yards, and he completed 115 of 198 passes for 1,562 yards.
Rounding out the all-league backs with second team honors was junior Nick Little, who had 843 yards on 79 carries.
That prolific trio made life difficult for opposing defensive coordinators, as week-to-week, any of those three could carry an offense.
"Our backfield of Parke, Tibbets, and Little were as good as any on the state at our level," Henderson said. "Nick missed parts of several games, plus two full games and still had a big year."
Jake Little had the speed at end to break open games and he dialed up many long plays with Parke.
Little led the Rangers with 52 catches for 715 yards and 12 scoress to garner a second team slot.
"Jake Little found his niche this year at offensive end," Henderson said. "He led us in receiving yards and was second in touchdowns. He blocked well, ran great patterns and caught a very high percentage of passes."
Defensively, the Dufur group was just as dangerous with the likes of first team winners Tibbets (defensive end), Olson (defensive tackle), Nick Little (linebacker), Parke (defensive back) and Jake Little (defensive back) working together to hold the opposition to a scant 19.8 points a contest.
"Defensively, Nick and Trever led us in tackles. Both are quick to the ball and tough to block for opponents," Henderson said.
Also on the defensive side, Christiansen managed to secure a spot on the second team.
The offseason plan is to get back to hitting the weight room in preparation for a new season of high hopes.
New leaders will be established as replacements for the stability Parke and Olson brought to the locker room.
"It will be tough to replace Cole and Austin, but we return a ton of experienced players next season, plus bring in talent from our junior high school program that have the potential to contribute right away," Henderson said. "If they work hard, we should be a quality team once again."