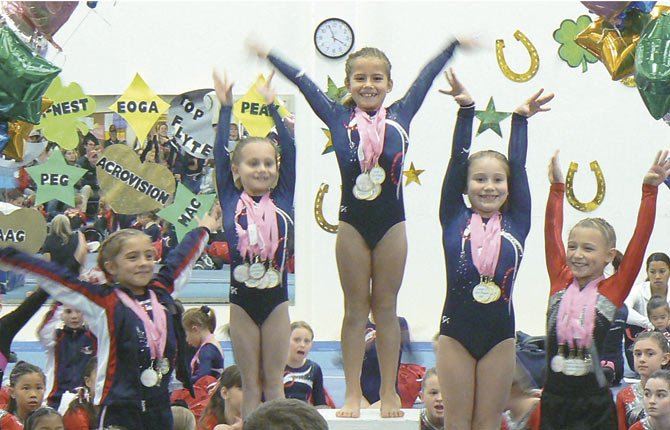 Annika Baumgarten is flying high.
The 9-year-old Dry Hollow student said her feet haven't felt stronger.
"I pushed off with my toes and got really high on my jump," she said of her beam routine at the Last Chance meet in Tigard on Nov. 9 -10.
Baumgarten parlayed her first-place beam score with another first on floor to take an all-around first place.
Her whole level 3 team followed suit, taking home the first-place team trophy. With Northern Sectionals slated for this weekend in Hillsboro, the timing could not be better, said coach Sara Smith.
"Oh yeah, we're ready," she said. "We're working hard on our endurance and perfecting our moves."
Riverside will be competing for a spot at state this weekend at sectionals.
"I'm feeling jumpy. I want to jump and scream and don't want to go," said Hailey Birch, 10. "But I want to go."
Ahnikah Rubio said she has been just trying to focus during practice. "I am tying to get my backhand springs and vault handstand perfect," she said.
Jacy Johnston has a perfect way of calming her nerves at big meets.
"I pretend all those people are my grandparents so I am not scared," the 8-year-old from Hood River said.
At level 3, Krissy Carter, Gabbe Haskins, Zoe LeBreton, Marissa Baldy, Madison Stembridge, Jacy Johnston, Margo Mayo and Karla Hernandez all had first-place finishes.
Riverside's Level 4 team also had a strong showing at the Last Chance Meet in Tigard.
Alexa Baldy and Emily Adams led the team with first-place all around finishes, helping to capture the first-place team trophy.
Ashley Quisenberry also landed a first-place score on floor.
It was a huge team effort said coach Candy Smith.
"It's really fun to have a meet like that," she said. "Everything comes together and they win. They work hard and they deserve it."
Riverside Gymnastics Academy is a nonprofit with recreational and competitive programs for boys and girls in the mid-Columbia. For more information, call (541) 993-8625 or visit at 2221 River Road, The Dalles.