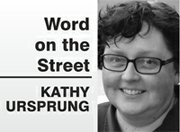 Be thankful for what you have; you'll end up having more. If you concentrate on what you don't have, you will never, ever have enough.
— Oprah Winfrey
Helping hands: The annual holiday collection drive at Haystack Broadcasting is under way now.
Every Wednesday morning, from 7 to 9 a.m., Haystack will be accepting drive-up donations of warm winter clothing, nonperishable food items, unwrapped toys and cash. All donated items will be split between the Salvation Army and St. Vincent de Paul. Free coffee and doughnuts are provided. The dropoff site is at 620 E. Third Street at Haystack Broadcasting except Wednesday, Dec. 11, which will be at Grocery Outlet.
Each week Haystack Broadcasting partners with a different local business or utility. Nov. 20 - Google; Nov. 27 - Columbia State Bank; Dec. 4 - NW Natural; Dec. 11 - Grocery Outlet; Dec. 18 - Oregon Cherry Growers.
Gifts that give: Two local businesses are teaming up with Wasco County's Distinguished Young Women program for a holiday fundraiser.
Program participants are taking orders for gifts from the J.S. Smith Jewelers Sterling Silver Holiday Catalog and Jennifer Albrecht's Scentsy line.
Contact any Distinguished Young Woman participant to order or go online to https://jalbrecht.scentsy.us/Scentsy/Buy through Dec. 1. For more information, call 541-965-0757.
Executive rules: The Dalles Area Chamber of Commerce is hosting a three-hour workshop called 15 Rules for Executive Success in Organization Management on Friday, Dec. 6, from 10 a.m. until 1 p.m. It will take place at Columbia Gorge Community College.
The workshop includes rules for professional growth and organization success, rules to help board members and volunteers perform at a higher level, rules to creat better budget and increase income, rules to help executives say "no" and other rules to help executives say "yes."
Volunteers and board members will also learn about nonprofits and how they can support their staff members at a higher level. The event includes an audio CD.
The closing session will focus skills for nonprofits. The event is presented by former The Dalles Chamber director Patrick McGaughey, who is now an international business speaker, consultant the certified professional facilitator.
Call or email the chamber to register or for more information at 541-296-2231 or lisa@thedalles
chamber.com.
A glimpse of the past: Archaeologist Eric Gleason will be focusing on The Dalles Chinatown in a Sense of Place lecture Dec. 4 called One Block Through Time: The History and Archaeology of The Dalles Chinatown.
Columbia Center for the Arts in Hood River hosts the lecture series that seeks to foster deeper understanding of and connection to the landscape and one another.
Doors open at 6:30 p.m. and lectures begin at 7.
Find more history on The Dalles Chinatown on the Facebook page of the same name.
Email items for Word on the Street to kursprung@
thedalleschronicle.com, call 541-506-4601 or send a message via Facebook to Kathy Ursprung.