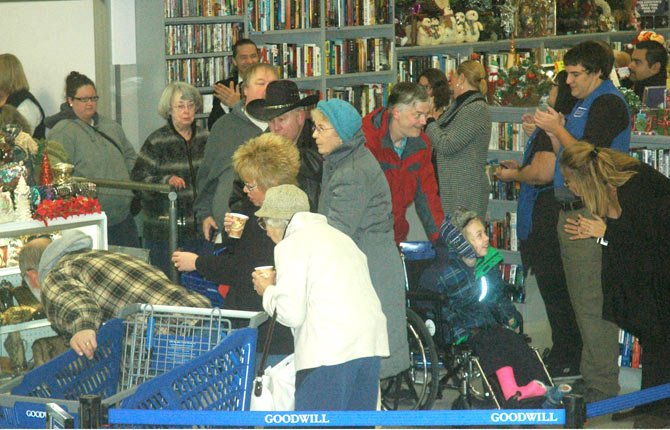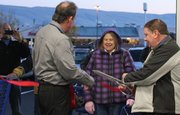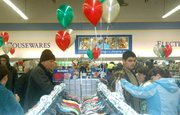 Despite temperatures hovering around 20 degrees, 216 people filed into the new Goodwill store in The Dalles today in the first 15 minutes after the 7 a.m. grand opening.
"I'm a dedicated Goodwill shopper and I'm so excited we finally have one," said Linda Fox of Wamic, who was first in line and bundled up against the cold. Fox had a shopping list including Christmas gifts and clothing.
"I absolutely love shopping at the Goodwill and it's better than driving to Portland," said Julie Van Mater of The Dalles. "As soon as somebody started lining up I was out here."
Van Mater declined to share her shopping plans. "I will keep that to myself," she said.
By the time the ribbon was cut and the doors had opened, the line of shoppers stretched around the corner of the building.
Gerald Kiser of The Dalles arrived at about 5:45 a.m., like other people, waiting in their cars until about 6:20.
"It's a good cause, I enjoy it," Kiser said.
Store manager Patrick Welch chatted with waiting shoppers outside the store. "I'm expecting a great turnout and enthusiastic people who love shopping at the Goodwill," Welch said. He came to The Dalles from the Bend-Redmond stores. He served as assistant manager in Redmond, where he helped open the store.
When the doors opened and the ribbon was finally cut, shoppers filed through the doors to the sound of sustained applause from the Goodwill Industries of the Columbia Willamette managers and staff who had gathered to celebrate the opening.
Grand opening festivities continue through Sunday and include daily drawings plus a grand-prize flat-screen TV.