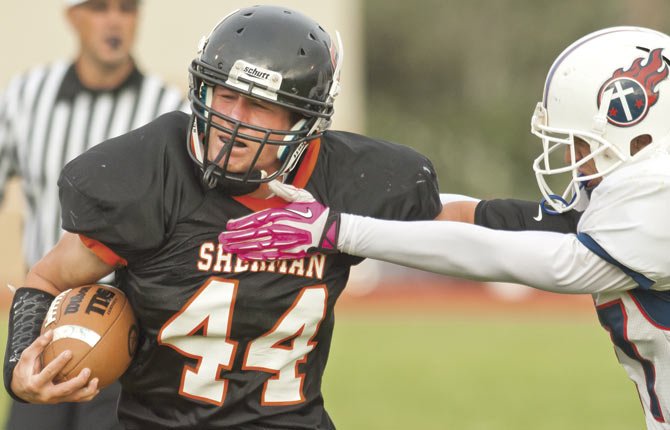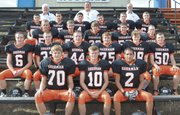 In a season of so much uncertainty given a revamped young roster and a new coach, the Sherman Huskies reeled off six wins, finished second in the Big Sky Conference to earn a playoff berth and had eight players cap their season with slots on the all-league list.
Of the eight, six of the players were selected for their contributions on both sides of the ball, and the trio of Cody Jauken, Kevin Hart and Blake Evans had their names called on the first team, Evans was on the first team as a running back.
In 11 contests, the Huskies were ranked 13th in the state with 432 points scored for an average of 39.2 points a matchup.
One of the main reasons was the effort put out by the hard-running Evans, a fullback. The junior had a team-high 136 carries for 1,214 yards and 16 touchdowns.
In a two-game stretch against Ione and Condon-Wheeler, Evans amassed more than 250 yards rushing, and he paced the Huskies' last win of the season in a 70-22 win over Arlington with 117 yards and a pair of trips to paydirt.
As the season wore on, the Sherman defense appeared to gain more confidence and had some good performances where they held opponents to 22 points or less, all wins.
Two anchors on the defensive line were the senior Jauken and the junior Hart, who were selected as first team participants.
On the second team, Austin Kaseberg earned a spot for his play as a defensive end, Blake Evans as a linebacker and teammates Nick Coleman and Brett Evans for efforts as defensive backs.
Sophomore Wyatt Stutzman etched his mark on the league ballot at linebacker and he earned his first selection on the honorable mention squad.
All but Coleman and Jauken will be back in 2014, but the Huskies have key contributors from each level returning to 1A action.
Sherman head coach Todd Swan, who had previously coached for 11 years before vaulting into the head coach class, credited the message sent by defensive coordinator Kyle Blagg in getting this group to newer heights.
"You also need to acknowledge longtime defensive coordinator Kyle Blagg for making some great changes on the defense that is getting them playing great ball," Swan said in an earlier interview.
In addition to Blake Evans, the Huskies had five others pick up all-league honors, four on the second team.
Kaseberg came on strong once he was inserted into the starting lineup midway through the 2013 campaign, and he made his biggest moves both blocking and receiving.
Overall, Kaseberg had 10 rushes for 53 yards, and he hauled in a team-high 12 receptions for 235 yards and two scores.
At quarterback, Coleman showed he was a more than suitable replacement for the graduated Riley Brown, as he nearly completed 50 percent of his 60 tosses.
Coleman converted 29 of 60 passes for 430 yards and seven touchdowns to go with three interceptions. He also completed five two-point conversions, good for second on the team.
When he wasn't flinging the ball all over the lot, Coleman rushed 40 times for 382 yards, seven scores and four more two-point conversions.
The senior chipped in one catch for 56 yards and a touchdown to his impressive stat line.
Sherman finished just 313 yards shy of matching last season's total of 4,218 yards, and they scored 432 points this season, just 39 points short of 2012.
Not a bad feat considering the offensive line was re-tooled to help keep the chains moving.
Jauken was a second team all-league recipient as the center, and Stutzman earned his stripes as a guard to notch a second team spot.
Given the fact that Sherman's line was significantly smaller in some areas against some big fronts faced on the schedule, it was a good output to have a trio of second teamers come out of that bunch.
"We can be outsized and we can be outnumbered, but in our eyes, we see our eight guys on the field and we are going to work to play for each other and we are going to work to take care of business within ourselves," Swan said.
Rounding out the all-league selections was former 2012 second team pick, Brett Evans.
Coming off a season where he rushed for 1,181 yards and 13 touchdowns, the junior speedster toted the rock 91 times for 986 yards and 11 touchdowns to go with seven two-point conversions.
Of the backs with more than 30 carries, Evans had a team-high 10.84 yards per carry mark.
Through the air, Brett Evans had seven catches for 113 yards a touchdown and a conversion.
With Blagg and fellow assistant Steve Bird, coupled with Joe Justesen and a few volunteers backing up Swan, the hope is that the wins can keep coming and that seven freshmen continue to mature.
It will take a collaborative effort to accomplish that.
Coaching is key.
"One thing that I learn is that the No. 1 thing you can do is surround yourself with people that are smarter than you," Swan said of his coaching staff. "They put in a lot of hours and really coach the kids up. I depend on them to make adjustment and personnel changes. We are definitely a solid staff and this team will go as far as those assistant coaches take them."
And while the wins and accolades are fine and dandy, Blagg said the entire staff has re-dedicated themselves to the other side of athletics, namely citizenship – a critical element that goes hand-in-hand with football.
"It is not about the wins and losses. We know what it is like to experience both of those," Blagg said earlier this fall. "Just seeing these young men better themselves on and off the field is where we as a coaching staff focus with them on. This is such a phenomenal group of good football players and good young men, so that makes it doubly fun."