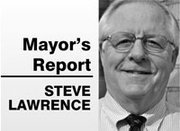 Due to the absence of three council members, only one meeting was held in October. A system is being developed now to track councilors' availability in the future to prevent this from happening again. The mayor does have the option of calling special meetings if necessary by giving 24-hour notice.
Both November and December have holidays that conflict with the council's regular meeting schedule. I will monitor whether the City's business needs require a special meeting.
The main issue in October was the land use law preventing assessment of fees when a resident requests to partition land into three or less partials.
Planning prepared an amendment required by House Bill 3479 and that ordinance was approved by the Council.
The formal ordinance will be submitted to the council on Nov. 25.
The Planning Commission will also be addressing other development issues such as the costs of streets, curbs, sidewalks and utilities. The City Council and the Planning Commission agreed during a work session that public hearings would be held by the Planning Commission on all such issues which might be effecting development.
I am looking for volunteers to serve on an ad-hoc bicycle advisory committee to update our bicycle master plan and prepare for the Gorge Bike Pathway to be completed in 2016. If interested, please contact our City Clerk, Julie Krueger at City Hall.
The council will also review a request to award a design contract for a possible downtown parking structure and a request for a rate increase for The Dalles Disposal.
All agendas and minutes of council meetings are available on the city's website. Annual audits for both the city and urban renewal will be presented at the next council meeting.
If you have questions or wish to contact me directly, my phone number is 503-807-0724 and my personal email address is, SeLawrence
1963@yahoo.com.
The Mayor's Report for September did not get printed in October but can be viewed on City of The Dalles' web site. (www.ci.the-dalles.or.us)