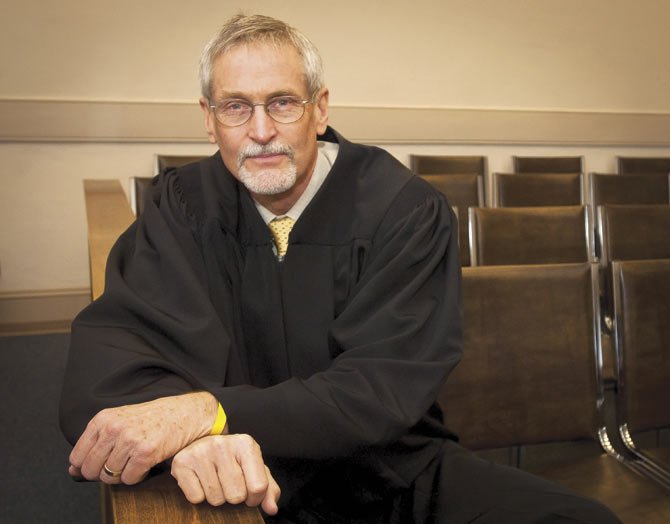 The City of The Dalles will graduate its first defendant from Municipal Mental Health Court next Wednesday and Judge Tom Peachey couldn't be more pleased.
"I'm not aware of another same-sized county in Oregon who is operating a court like this," he said.
In keeping with his tradition of providing people with the dessert of their choice for meeting court-ordered conditions, Peachey will present a chocolate cake Nov. 27 to the graduate. She is 53 and has complied with a stringent list of conditions to change her behavior.
The judge is hopeful that her long history of angry outbursts that led to frequent arrests for disorderly conduct has become a thing of the past.
"She really has been my rock star," he said. "It's been fun to see her succeed and take such pride in her success."
The court for people with personality disorders or lesser degrees of mental health problems convenes at 8:30 a.m. on the fourth Wednesday of each month. There are currently six people who have committed misdemeanor offenses and been deemed eligible to enroll in the program.
The court is conducted in partnership with Mid-Columbia Center for Living, the provider of treatment services; Gene Parker, city attorney and Kevin Hashizume, city prosecutor. Police Chief Jay Waterbury also provides input, as does Wasco County Sheriff Rick Eiesland and Lt. Pat Shortt from the Oregon State Police.
Defendants who agree to participate cannot have a violent criminal history or severe form of mental disorder that will require a greater level of supervision. They are required to admit guilt with the underlying crime, which promotes accountability, and sign a contract with these focus points:
• Participants must agree to obtain stable housing, along with medication or counseling. Substance abuse treatment is also required as well, if there is an addiction problem.
• Positive life activities must be sought out and all fines and restitution paid.
Al Barton, clinical services manager for Center for Living, said a place known as "The Cottage" offers clients a safe place to congregate while they are going through the court process. That was where Peachey's graduate, who repeatedly threatened neighbors and isolated people with her negativity, learned how to interact in a social environment.
The Cottage is run by employees of the center, who plan activities and schedule computer time for people who drop by.
"It's just an opportunity for folks with varying degrees of mental health problems to come together and not be judged," said Barton.
He said mental health court is a positive way to provide people with incentive and motivation to change their lives. His agency is responsible for making sure medications are taken, either on-site or at home, and counseling sessions are attended.
"It's pretty efficient, it doesn't take a ton of paperwork or time," he said. "It's not a band aid that's going to fix all mental health problems, but it's a start."
If the defendant fails to show up for counseling, Peachey can order more court time to get the point across that the program is meant to be taken seriously. He said it is too early to tell at this point whether additional administrative costs have incurred but he is doubtful there is much added expense.
He said by keeping someone out of jail, even for a minor offense with less time, the law enforcement and correctional systems as a whole experience savings.
"Every time someone is booked and arraigned, it costs $500-$1,000 to the system," he said. "And the typical probationer with mental health issues ends up being back in the system three times."
Peachey said the court also helps keep officers safe because arrests involving the mentally ill frequently involve out-of-control behavior.
"This has been a phenomenal thing," he said.
In December, Peachey and Doreen Brown, the court clerk, will join Hashizume on a field trip to Clackamas County to observe how a mental health court established for years in a larger jurisdiction operates.
"A lot of our clients are homeless and come from dysfunctional backgrounds so we create a 'family' environment for them and try to reward them for good behavior," said Peachey, who hands out Dairy Queen gift cards when certain benchmarks have been reached.
Brown said some defendants check in frequently to see how close they are to getting one of the coveted awards.
Jim Weed, director of the regional jail, said the local mental health court is a positive step forward. He said there is a need for state and national leaders to continue down that path and come up with other proactive solutions.
"We have chosen to turn our backs on the mentally ill in this nation," he said.
He said changes in the law several decades ago have made it nearly impossible to get someone into treatment unless he or she poses a threat to themselves or others.
Instead of supporting the reset of policy by funding more services for people living outside of an institution, Weed said there have been major cutbacks in funding. And that has reduced the number of facilities available for people who do want treatment.
The National Institute of Mental Health estimates that 26.2 percent of Americans ages 18 and older have a diagnosable mental disorder, the leading cause of disability in the U.S. and Canada.
Weed said one-third of the inmates in the Northern Oregon Regional Correctional Facilities now are mentally ill, and five percent are debilitated to such an extent that they cannot function independently.
The problem is vast, said Wasco County District Attorney Eric Nisley, and not being addressed by government leaders. He said legislators are continually looking for ways to cut budgets and reluctant to spend extra money on mental health services.
"It's a good investment and it's one that needs to be made but the state hasn't stepped up," he said.
Peachey said it is more difficult to compete for mental health funding when there is no real "poster child" to capture the hearts and minds of government leaders.
As a result of budget cutbacks, Peachey, Weed and Nisley say many people end up spending much of their lives being incarcerated. Some of the mentally ill commit criminal acts to get back behind bars where they receive stabilizing medication, food and shelter.
"You have people who go to the store and steal an apple because they don't want to be out on the street anymore, and then they sit in here for weeks waiting for their case to be dealt with," said Weed.
He said the costs to house people with mental disorders is high because they frequently require medical attention and need almost constant supervision due to behavior that is often out of control.
"What we've done is move people from the hospitals to the jails — we have become a default mental ward," Weed said. "As a society, we need to figure out a better way to deal with people who basically end up living in the county jail."
Nisley said a man with mental problems was recently walking in front of cars and began fighting officers who tried to get him out of traffic.
"It took seven officers to make the arrest after they used pepper spray and Tasers – that is the type of situation that develops when mentally ill people are out on the streets," he said.
The balance between the personal liberty of individuals and protection of society as a whole is tough to find, said the district attorney, but the cost to avoid setting those boundaries is draining public budgets.
Barton is hopeful that, one day, a mental health court can be established for people who commit more serious offenses.
Nisley said that isn't going to be possible unless the state comes up with more money. He said the judicial system is already spread so thin in terms of resources that there is no way to take on the extra responsibility when drug court and dependency court are already in place.
"This type of a program takes intensive supervision and without that it will fail," he said.
The true answer to the mental health challenges facing the state, say Nisley and Weed, is to have more halfway houses and other secure residences set up that can provide people enough structure for people with disorders to be functional.
"Threatening these people with jail is a tool but it's not the answer," said Nisley.