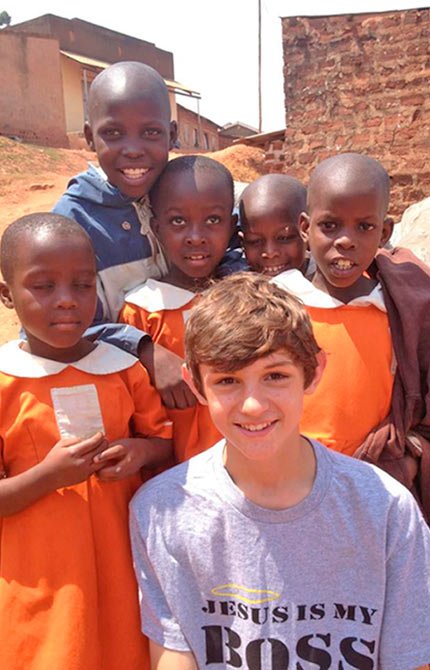 There's just something about Zac Palmer that kids are drawn to.
It became apparent when he went on a mission through Global Expeditions to Ireland and England in 2012.
His fellow missionaries told him, "'Boy, Zac, it seems God just gives you this thing with children,'" recounted his mother, Donna Palmer.
And that's not even talking about the girls who mobbed him because they thought he was Justin Bieber, she joked.
His connection with kids was even more apparent when he went on a three-week mission to Uganda this past summer. He's going back there next summer, and will also go to South Africa, spending six weeks there in total.
Zac, 15, is a freshman at The Dalles Wahtonka High School, and he's had a turnaround in his life thanks to his mission work.
He wasn't eager to go to Ireland and England — in fact, he'd changed his mind about going at the last minute, but had to go anyway — and he didn't hide his reluctance to be there.
Zac is adopted, Donna said, and struggled because of it. He often took his anger out on her and everyone around him.
Zac said, "I was always angry at everyone, just constantly. I wasn't happy with myself. I was always angry. I felt everyone was doing everything wrong and I was the only right person around. But clearly that's not the case at all."
So, in Ireland, a group of guys prayed for him for hours, and Zac said the change in him him was "miraculous."
"I'd never felt so, like happy for a long time," he said. "Internal happiness, like peace."
That happiness has remained with him.
His attitude has changed utterly, and he is now loving to his mom, and is thinking of making missionary work his life's calling. He also quit smoking marijuana.
After that transforming experience, he went to Ireland and England and experienced great success.
"He had the pleasure and honor of leading at least four people that I know of to the Lord, and even one on the plane. God really filled him up and just used him in an incredible way," Donna said.
Since his transforming experience, "He's been a pleasure, let me tell you," his mom said. He'd had two difficult years prior to that.
In Ireland, he learned about a future mission to Uganda. He came home and told his mom, "'I know God is sending me to Uganda and that's what I'm doing.' He said he didn't even know where Uganda was," she recounted.
In his mission work through Global Expeditions, he helped teach abstinence to older kids and gave lessons — in the form of skits — about God's love for everyone.
He can especially relate to the orphans, because he considers himself one. He joined the Palmer family when he was five days old, Donna said, after he was taken from his mother, who was a drug user and had also had other children taken away.
Now, Zac loves school and is prepared to do what it takes to be a success there. To raise money for his missions, he works at the family's Shell Station by Denney's.
He'll need about $3,000 to pay for plane fare and other expenses for his six-week trip next summer.
Donna said Zac couldn't explain his attraction to kids in Britain, but was able to articulate it after going to Uganda.
"He was so excited when he came home," Donna said. "He said, 'I know I was supposed to go to Uganda for me too because I know God expects me to be pure and remain pure. This year my goal is I've got to tell people what I am and why I am.'"
"His goal is to lead at least one person to the Lord in the high school this year," she said.
He's gotten razzed a bit for being so open about his beliefs, she said, but he is adamant about being true to himself.
"He didn't go to the homecoming dance," she said. He told her, "I don't do grinding and stuff like that, that's ridiculous.'"
His mom added, "I'm so grateful that he also knows that he could fall at any minute and he's so good about saying 'I'm wrong.'" Before, that wasn't always his strong suit, she said.
"Obviously I've had some slips," Zac said, "But it was pretty amazing for me, it changed me completely."