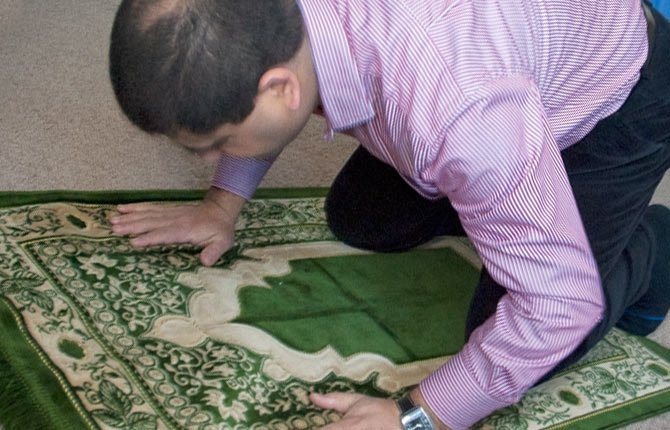 When the Boston Marathon was bombed, Ahmed Atieh's Facebook page quickly filled with posts from his friends, all expressing the same dread about the religion of the assailants: "Please don't be Muslim."
But, as the world quickly learned, the bombers were indeed Muslim, and Atieh's deeply held faith was yet again portrayed in the worst possible light.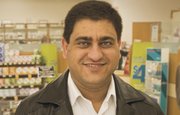 Atieh, a pharmacist in The Dalles, was born in Jordan — where his family fled in 1948 after war broke out in their native Palestine (now Israel) — and worked as a pharmaceutical rep throughout the Middle East before moving his family to the U.S.
For an occasional series in the Chronicle about faiths around the world, Atieh agreed to talk to a reporter about the tenets of Islam, a faith as complex as it is misunderstood.
Atieh has never had a drop of alcohol, prays five times a day, and perhaps surprisingly, follows the same dietary rules as in the Jewish tradition. What is called kosher food in the Jewish tradition is the same as halal for Islam.
Atieh can turn to Islam's holy text, the Koran, for direction on everything from how you knock on the door when you visit someone to how to enter a contract.
The Koran provides rules for "dealing with people," he said. "The Prophet Muhammad said the religion is dealing. How you deal with people is a reflection of how good a Muslim you are and your religion will not allow you to do the bad thing.
"The Prophet Muhammad said, 'I came to complete the manners of people,'" Atieh said. "That's what the Islamic religion is about."
The Koran says God created humans to worship him.
"God also created us to work and progress in his ground. We are here to build and work and develop and do things."
God's plan is a mystery, he said. "You don't know what is best for you, you just try your best and what is best for you, God will put in front of you."
Atieh wants to describe for readers "a good, real Muslim, not the ones you hear about and are afraid of." He said, "I hope I am a good Muslim. I'm trying."
Radical Muslims "are not related to Islam," he said with clear frustration.
Atieh said the Koran itself instructs the faithful to be moderate.
"You are not very strict and you are not very loose. You are in between. The extremists go to extremes."
Once people mix their politics with their religion, their politics "become the ruling factor and you will use your religion to explain your ideas, like the terrorists," he said.
The Koran says, "If you killed someone without a reason, it is as if you killed everybody."
And the word jihad, widely equated with warfare, is actually nothing of the sort, Atieh said. In the Koran, jihad is simply something someone struggles to do, because it is important and significant. It could be a struggle to take care of an elderly parent, for example. If that is the difficulty you face, that is your jihad, he said.
Islam was founded in the seventh century, after a simple man, a shepherd, married with four kids, began receiving revelations from God. The man, Muhammad, couldn't read or write, but those around him carefully memorized and wrote down all God's revelations, in what became the Koran.
The Koran stresses that Muhammad is not to be worshipped, since he is just a messenger. Images of him were forbidden because "his value is much bigger than can be put on paper."
Atieh laid out the complex series of steps involved in being a Muslim.
"Before you can be a Muslim, you have to be a faithful person," Atieh said. To be faithful, as laid out in the Koran, you have to believe six things: "There is only one God, and you have to believe in his books and his angels and his messengers. You have to believe there is a day of judgment and you have to believe in a destiny, and it can be good or it can be bad."
All will be judged by God "on the way you lived and the way you utilized what God has given you," be it time, money or talents, he said.
"We ask God to judge us by his mercy, not his fairness," he said. "A strictly fair accounting would not be good for you."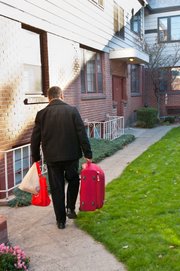 Good acts count for more than bad acts.
The Day of Judgment is not known by anyone, including Muhammad, he said. Signs of the End Days include "when Muslims are very big in number but their value is nothing," and when the tribes of traditional sheepherders start competing to see who has the highest building.
Destiny is a strong component of Islam. When a person is born, Atieh said, three things about them are written by God: how long they will live; what they will gain in their life, such as children, wealth, and power; and whether they will be happy or not.
"But you don't know what God wrote, so work for your life," he said. The fourth leader of Islam — who was alive in Muhammad's time and later led the faith — said, "Work for your life as if you live forever and work for the Day of Judgment as if you were dying tomorrow."
Once a person is considered a faithful person, to become a Muslim, they must follow the five pillars of Islam.
First, you must say, in front of Muslims, that you believe in God, there is only one God, and Prophet Muhammad is his messenger.
Second, you have to pray the way Muslims pray, which is five times a day.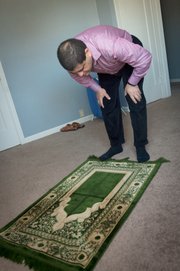 Prayer is the main pillar of Islam, and Muhammad sets out specific steps to clean the body in preparation for prayer. They involve washing your hands three times, gargling three times, washing your nose three times, and washing your hair, ears, neck and feet.
"When you are praying you are between the hands of God, you are in an interview with God, so you have to be clean, you have to be dressed clean and you have to be focused."
Atieh also prays before work every day, and even before he gives a flu injection to someone, to ask God that he performs his job well and is helpful to the person.
The third pillar of Islam is a requirement to fast from sunrise to sunset — no food or water — every year during Ramadan, which lasts a month.
"In the evening you can eat whatever you want," he laughed. Each Ramadan, he loses five or six pounds, and his cholesterol and blood pressure improve.
The first few days of Ramadan "are really bad," he said. But then he gets used to it, and once it's over, the first few days of eating again are difficult.
At the end of Ramadan, a day of feasting occurs, "and every woman will be proud of what she cooked." One specialty is made with semolina flour "that will make you bloat and fart."
Fourth, you must donate money — 2.5 percent of your income — to the needy, although those below a certain income are not required to tithe.
But tithing has to be done with a pure heart.
"There are people that spend money and God will not write it down because they have done it to show off," he said.
Fifth, you must make at least one pilgrimage to Mecca, a historic site of worship in Saudi Arabia that was popular even before Muhammad's time. The pilgrimage, called Hajj, is arduous, and Atieh has already taken it, which is unusual for his young age.
The faithful rotate around a black building, the kabba, seven times. "You could have two million people in that circle, you could get trampled, so if you can't withstand difficulties, you can't do it," Atieh said.
"The year I got married I told my wife we will go for a pilgrimage. She was shocked. 'We are still young,'" Atieh recounted. In his home country, Jordan, a limited amount of people can go each year, and the priority is given to older folks. But at the time, they were living in a country with no quotas, so they went.
In Islam, the faithful believe that when you die, three things continue in your favor: a good son that is still praying for you and thanks God for you; if you have made something that people are benefiting from, or have done a good deed that people have benefited from; and when you give money that continues to benefit people, like building a mosque or a school.
Muslims do not believe in evolution. But they are not anti-science, Atieh said. The Koran says scientists fear God. "Who fears God?" Atieh said. "Those who understand the power of God."
The Koran says the faithful may not commit suicide, and also encourages moderate eating, saying, "The worst pot to fill is your stomach."
The Koran also acknowledges Jesus, although, like in Judaism, he is seen as a prophet, and not the son of God.
"The Koran says you have to believe in Jesus because he did things normal people cannot do," Atieh said.
Muslims believe the world will end in Lude, the town in the former Palestine that Atieh's family fled from. "There the victory will be, the world will end and Jesus and his supporters and his followers will win."
"I'm a 100 percent believer in Christianity, a 100 percent believer in Judaism because they are written in the Koran," he said. "We don't believe the same things on certain things and that's what's creating all this mess."