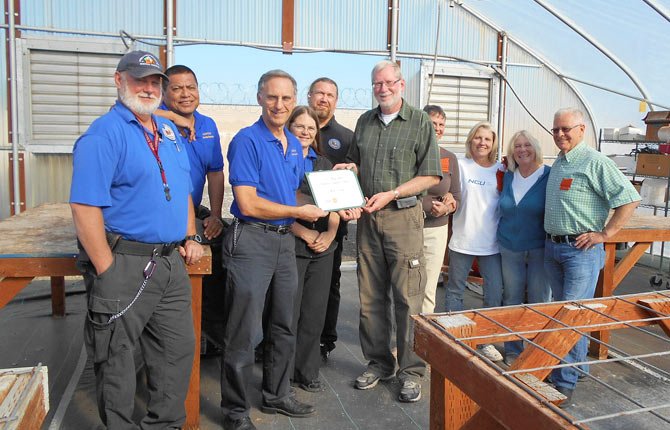 The Dalles — Innovation is the watchword when it comes to our hometown, homegrown Master Gardeners.
Most recently the Oregon State University Extension Service's Wasco County Master Gardeners received a Search for Excellence Award from the Oregon State Master Gardener Association due to their Northern Oregon Regional Corrections greenhouse program.
This program partners the Master Gardeners with inmates at the regional jail juvenile facility. Working hand-in-hand with guards and service district educator Phillip Brady, the Master Gardener project has become a motivational learning experience for incarcerated youth, a major fundraiser for the local Master Gardeners and a source of funds to operate the correctional facility greenhouse.
Six years ago, current project leader Sheri Esquivias and Peggy Peterson were the driving forces behind establishing the Master Gardener portion of what has become a sustainable horticultural work-study relationship with incarcerated youth. The behavior of each youth is evaluated daily by two staff shifts for positive interaction with peers and staff, attitude, education and group rules. They must receive sufficient points to earn the right to work with the Master Gardeners in the greenhouse.
This reward for good behavior is highly sought after by the youth and it allows them to get actively involved in a vocational environment alongside local Master Gardener volunteers. This activity provides student inmates an opportunity to enjoy nature in an otherwise restricted residence. The youth have an opportunity to learn about seeds, soils, irrigation and fertilization scheduling as well as plant identification and transplanting techniques. It also provides them with an opportunity to gain hands-on work skill experience.
"We have come to realize that the students watch the Master Gardeners interact as a group of functional adults," Esquivias said. "We laugh and kid as well as voice differing opinions. We disagree and then agree all sometimes in one day."
The endeavor has proven rewarding both individually and collectively for the youth and volunteer gardeners alike.
Award-winning programs are not new for the local OSU Master Gardeners in Wasco County. In the last few years their efforts have been rewarded two other times by this prestigious honor. In 2011 they won the award for The DIG (The Dalles Imagination Garden), a community garden, located along the Riverfront Trail, and prior to that they received the recognition for a fourth grade learning program called Seeds-n-Soils enjoyed by Wasco County fourth grade students district-wide.
The Oregon Master Gardener Association is given only to the best Master Gardener programs around the state and emphasizes a commitment to community. For OSU Wasco County Master Gardeners, that's a commitment to the entire Mid-Columbia region.