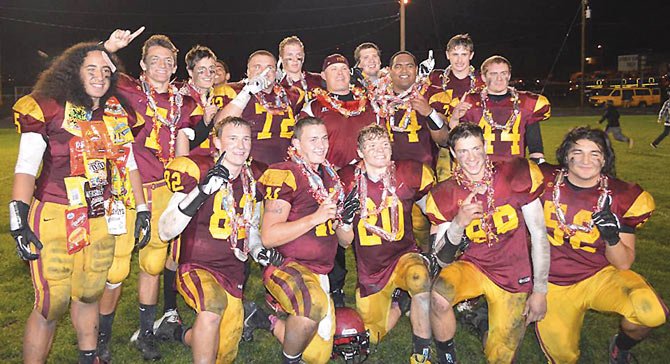 With first-year head coach Steve Sugg bringing new hope to its football program, The Dalles Wahtonka football team created a successful building block for years to come.
Much of that showed in a five-win, playoff-qualifying campaign with the help of nine seniors, one junior and one sophomore chalking up all-Columbia River Conference recognition.
"Considering what our football program endured the last couple of years (back-to-back one win seasons), I'm extremely proud of all these kids," said Sugg in an earlier interview. "They set goals at the beginning of the season and they worked hard all year to accomplish most of those goals."
Of those nine seniors who earned all-league status, Nerdin tallied first team for his play at tight end, and Shortt was penciled in as a first teamer on the line busting holes open for the countless weapons to burst through.
With Shortt as a force down in the trenches, the 6-foot, 1-inch, 235-pound senior helped pave the way for 2,203 yards and 20 touchdowns, to go with 331 rushing attempts for 1,683 and another 19 touchdowns, as TDW scored 286 points for an average of 28.6 points per contest.
Shortt stood out on the line, but with his blocks giving the quarterback some time, Nerdin was afforded an opportunity to get open passes in the middle of the field.
The 6-3, 180-pound tight end totaled 27 catches and 435 yards for 16.1 yards a catch. He added three touchdowns and had a long of 60 yards.
To have nine seniors earn all-league, two on the first team, shows how much that core wholeheartedly believed Sugg's offensive scheme.
"They all put in the hard work and have gone through so much together," Sugg said. "To come into the season with a coaching change and a new philosophy, can be a struggle for some players. But everyone bought in and took on this challenge head-on."
On the second team, the Eagle Indians had running back Blake Diede, wide receiver Austin DeHart and offensive lineman Lio Tunai stake claim to league honors.
Diede played in nine games this year and averaged a team-high 6.3 yards per carry.
He finished second on the team with 80 carries and was second as well with 522 yards rushing, adding two rushing scores to his stat line.
Through the air, Diede had 15 catches for 156 yards for 10.4-yard average with a long of 64 yards.
There was some uncertainty as to whether or not Austin DeHart would play in his senior season, but thankfully, he was able to get on board to lend a major hand to the team's offensive execution.
Standing at 6-2 and tipping the scales at 165 pounds, DeHart proved to be a tough matchup against smallish defensive backs.
The veteran posted 38 catches for a team-leading 821 yards and another high of nine touchdowns.
He averaged 21.6 yards a grab with a career-high long of 75 yards.
In addition, DeHart did work on special teams, where he had 15 kick returns for 280 yards.
Also on the offensive line, Lio Tunai captured second team recognition for his play in the trenches at center and at guard.
With Tunai at the helm, the Eagle Indians scored 41 touchdowns and converted on 25 of 40 in the red zone for 63 percent.
On fourth downs, the Tribe went 21 of 50 for 42 percent.
"It was a great year. We were able to do a lot of good things on offense," DeHart said earlier this year. "I thought we got better and better this year and did some very good things."
There were a handful of Tribe standouts, who chalked up honorable mention picks, as Chaise Shroll, Billy Brace, Austin Wilson, Riley Bardes, Mike Pifer and Devin Wilson led the way.
From the quarterback slot, Shroll did damage with his arms and legs, amassing 2,624 total yards from scrimmage and 32 combined touchdowns.
The senior led the team with 113 carries and 539 yards for 13 touchdowns.
While dropping back to pass, the 6-2, 235-pound righty completed 141 of 310 passes for 2,085 yards and 19 touchdowns and 17 interceptions in 10 games.
In his final game of the season, a 43-26 loss to Wilson in the state playoffs, Shroll completed 20 of 41 passes for 291 yards along with three scores.
Brace, a senior, had 31 rushes for 148 yards and a score, and he tallied five kickoff returns and 116 yards.
Austin Wilson, in his final varsity campaign, had 24 catches and 344 yards with five trips to the end zone. He had a season-long of 39 yards on one of his receptions.
Sophomore running back Devin Wilson moved closer to being the Tribe's future lead back, showing an all-around game.
Wilson had 28 rushes this season for 110 yards, and from the backfield, he notched 23 catches for 225 yards and three scores.
With Devin Wilson and Bardes back in the mix as the future leaders on an Eagle Indian team, Sugg hopes this successful first season is just a speck of what is coming.
The five wins, the playoffs and 11 names called as all-league recipients present that fact.
"This is just another step in that process," Sugg said. "The younger kids have been a part of this. They will benefit greatly from this maybe a little more than the seniors will. They had that never-say-die attitude and that belief that they could always come back and get it done."
Complete 2013 individual player statistics are from www.sportsstatservice.com