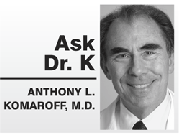 DEAR DOCTOR K: I'm interested in buying a high-quality cardio exercise machine to use at home. Any advice?
DEAR READER: Cardio machines offer good aerobic workouts that burn calories and fat. They simulate everything from cycling to walking and running, rowing, skiing and stair climbing. I have an elliptical trainer in my basement: It allows me to exercise every day, regardless of the weather. (And here in Boston, the weather is not always very pleasant.)
The price of a cardio machine can vary greatly. How much you pay will depend upon whether a machine is motorized or programmable, and whether it measures heart rate, calories burned, time elapsed, and so forth.
Here are some popular types of equipment — along with what to look for in each machine:
— An elliptical trainer provides a circular up-and-down motion for a nearly impact-free workout. Levers with handgrips to work the upper body are available on many models. Look for comfortable handlebars and nonslip pedals with curved ridges.
— A cross-country ski machine lets you exercise arms and legs simultaneously. The sliding motion is easy on the knees. Look for a wide foot bed for stability.
— A rowing machine works the back, arms and legs simultaneously. Some people find this machine hard on the back. When purchasing one, consider pulley models instead of piston models.
— Stair-steppers provide a low-impact workout that approximates climbing stairs. Some models have levers with handgrips to work arms, too. The motion can be hard on the knees. Look for machines that provide independent foot action and are equipped with handrails and large stair platforms.
— A stationary bicycle takes no training and is easy to use. Even if you never learned how to ride a bike, you can easily use an exercise bike. You don't have to worry about keeping the bike balanced. However, an exercise bike can be uncomfortable for long stints. Look for a model with a comfortable, adjustable seat and toe clips.
— A treadmill enables you to walk or run indoors. Opt for a motorized treadmill with a strong motor, a belt that's long and wide enough for your stride, a sturdy frame with front side rails for safety, and an emergency stop device. You should be able to adjust the speed and grade.
Be sure to try out any equipment you are considering purchasing before buying it. Some people just don't like certain machines. And if you don't like using it, you won't. That's money down the drain.
Finally, keep in mind that you do not need any equipment to embark on an effective exercise routine. It's easier and a lot less expensive to start out walking or jogging. But if you want to exercise every day, and live in a place where the weather can be unfriendly, exercise equipment is the way to go. If you can do it, position the equipment near a window, radio, music player or TV — that can help make the exercise time more enjoyable.
Dr. Komaroff is a physician and professor at Harvard Medical School. To send questions, go to AskDoctorK.com, or write: Ask Doctor K, 10 Shattuck St., Second Floor, Boston, MA 02115.