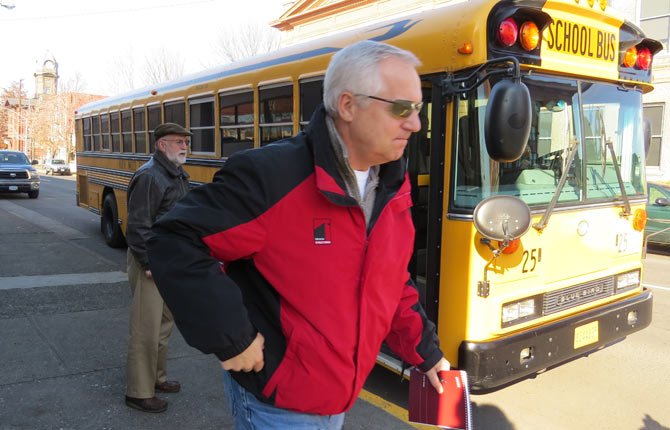 "The meeting is now called to order and the tour shall begin," said Chris Zukin, acting chair of The Dalles Planning Commission before Monday's field trip began.
Five members of the appointed body were available for the 11 a.m. tour of underdeveloped streets on the east and west ends of the city. They and other riders were briefed when boarding the school bus Nov. 25 about standard safety rules, including a prohibition against standing on the seats, which drew a collective chuckle.
Driver Cathy Parke then jokingly reminded the officials that surveillance cameras were onboard in case they decided to get unruly.
Joining the tour was: Dick Gassman, city planning director; Dave Anderson, public works director; Dale McCabe, city engineer, and Carole Trautman, administrative secretary for Gassman.
Several local landowners were also present and addressed an area of longstanding contention. Randy Hager, who resides in the urban growth area on East 10th Street, is facing an $80,000 bill to divide his property into two lots. That money would be used for future infrastructure improvements that he told the commission and city staffers were not necessary. He said there was no reason to spend money on sidewalks and curbs near these outlying parcels of land.
"We do have a general feeling out here that the rural nature of these streets is acceptable," said Hager.
Anderson said 10th Street had been identified as a main route through town, which meant standards for improvements were higher. He said the arterial had to be able to accommodate increased pedestrian and motorist traffic as development occurred.
Hager and other east-end residents contend the city is halting development by imposing fees for infrastructure upgrades that are prohibitive.
These citizens succeeded earlier this year in getting the state legislature and governor to eliminate fees for minor partitions that sometimes topped $150,000.
However, the city interpreted the new law to not apply to properties in the urban growth area, where Hager resides. Therefore, he and other citizens are still subjected to large fees until the city and county reach an agreement on the issue.
These properties are in county ownership but will one day be annexed by the city, which manages development. The author of the new law, Dave Hunnicutt, president of Oregonians in Action, a property rights advocacy group, said the intent was to include urban fringe areas.
He said if the city and county do not eliminate the fee for minor partitions to comply with House Bill 3479, he will ask the legislature to intervene in 2014, or his organization will take legal action.
Gassman said enactment of HB 3479 in July led the city council to ask for a thorough review of street standards.
He said the commission is faced with a complex challenge because houses have been built throughout the city with standards that differed in each era. That has left some streets with sidewalks and curbs and others nearby graveled or in a slightly improved state.
He said if landowners put in sidewalks instead of paying into a common fund to have that work done, as has been standard practice, these paved areas have to be moved when development occurs, which then becomes a cost to the city.
"You have to keep in mind that development of a community works over time and it doesn't always happen in a nice rational fashion," he said. "The issue is how to get improvements in and, frankly, there's no easy answer to this. That's why we are having this discussion."
Hunnicutt objected to having residents pay ahead for improvements that might never be made. He said the correct way for the city to get the money to accomplish that work was formation of a Local Improvement District. He said landowners then had a vote on the expenditure of money for the project and the cost was shared by everyone on the street through a special assessment.
However, the city has not been able to get a residential LID in place for the past 16 years, most often due to objections by property holders about the cost.
Gassman told people on the bus to remember that individuals do not set the standards for streets, those policy decisions are made by the city council, which is elected to represent citizens.
Linda Quackenbush, who lives on the east end of town, joined the tour. She told Gassman that it was unlikely that citizens of a bygone era had been asked to pay up to 40 percent of the value of their land for improvements. She said that amount of money had been required from her family by the city until the state intervened.
The planning commission has held three work sessions, including the tour, on development standards. Discussion has taken place about what standards should look like, when exceptions should be made, and how that work should be paid for and by whom.
The question the commission is being asked to answer is: "If the city wants public improvements, and the streets are not in a state that will allow installation of the improvements at the time of a triggering event (building permit) how does the city (and the property owner) proceed?"
Two discussion groups have been formed to research the issues involved in that question. The first subcommittee is looking at how street standards should be applied and the second is researching potential funding sources for improvements.
The planning commission convenes on the first and third Thursdays of each month and the next meeting is 6 p.m. Dec. 5 at city hall, 313 Court Street.
Once the commission has come up with recommendations, these will be presented to the city council for review and possible adoption.