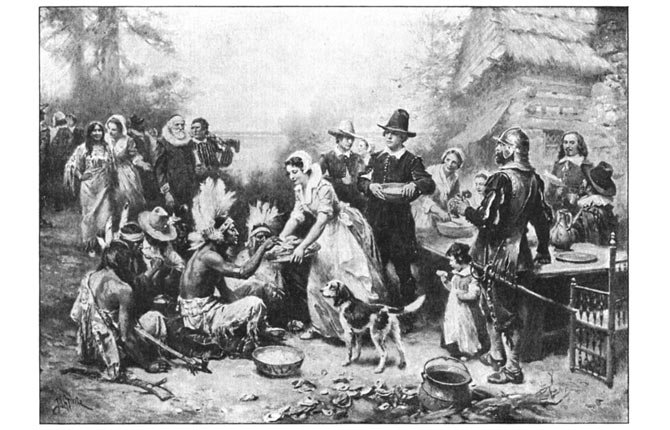 If a fellow isn't thankful for what he's got, he isn't likely to be thankful for what he's going to get.
— Frank A. Clark
The most common tradition of Thanksgiving Day in America dates back to 1621 when the Pilgrims, who had struggled to survive on the edge of an alien land, gave thanks and joined in fellowship with the native Americans for the bounty of their first harvest and, most likely, offered up a prayer to God for help in surviving the winter soon to descend.
Again, in 1789, when President George Washington proclaimed the first nationwide thanksgiving celebration in America, he declared the observance to acknowledge "with grateful hearts the many and signal favours of Almighty God."
He and the other forefathers had just created a nation where none had been before — a nation unlike any before seen on earth.
In 1863, in the middle of the bloody Civil War, President Abraham Lincoln issued a proclamation setting aside the last Thursday in November as a day to be observed every year as Thanksgiving Day. It may have seemed to many that this divided nation had little for which to give thanks, but Lincoln found abundant cause in the products of fields, factories and mines; the growth of the fledgling nation's population; and the relative peace that ruled outside the battlefield.
"No human counsel hath devised, nor hath any mortal hand worked out these great things. They are the gracious gifts of the most high God, who, while dealing with us in anger for our sins, hath nevertheless remembered mercy," Lincoln declared.
We may not live in such transformational times as the Pilgrims, Washington or Lincoln. And we may not all choose to praise the same god, or any god at all. But we can all acknowledge the strife that has overtaken this nation in recent years: more than a decade at war, divided at home, struggling to come to terms with the new economic reality after the Great Recession and what it has done to us as a society.
This past decade has exacted a heavy price on the people of the United States.
At the same time, we can still find ample cause to be thankful: for the relative safety, prosperity and freedom most Americans are able to enjoy.
We are also fortunate to have a day set aside for thankful reflection on this bounty.
Unfortunately, some of that day's peace has been shattered by the acquisitive rush to dive into a manic holiday shopping season — a process that runs exactly counter to the gratitude to which this day is dedicated.
But this is a day worth protecting and extending, not cutting short. It is a tradition worth carrying into the weeks that follow with themes of gratitude and giving.
So after we have washed the dishes and put the leftovers away, we can let Thanksgiving set the tone for the rest of the holiday season and beyond — a tone of gratitude, generosity and community.
Take time from the Christmas frenzy to make someone else feel better, through friendship, through volunteerism or through donation. And take time to gather in fellowship with the people around you.