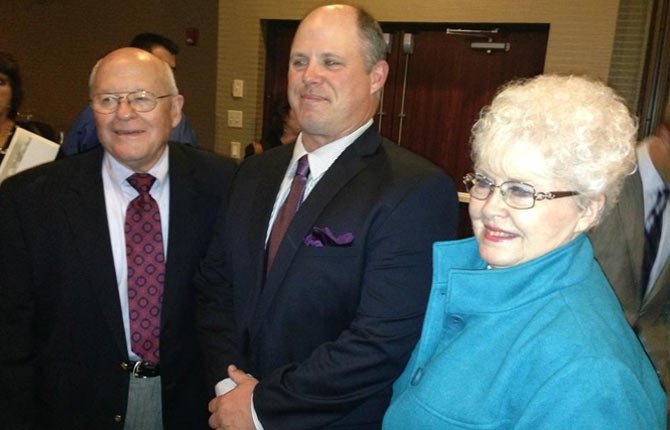 In front of a large crowd on Nov. 9 at the Wilsonville Conference Center, surrounded by his loved ones and dozens of contemporaries, Steve Sugg was all smiles as he accepted an honor not many coaches get the opportunity to experience.
Sugg was one of four inductees this year into the Oregon High School Baseball Coaches Association Hall of Fame.
Along with Sugg, Ron Goodell, Gary Baton and Stacy Morgan were all Hall of Fame inductees, and Al Geddes and Bill Wittala received Merit Awards.
Starting in 1993, Sugg skippered The Dalles High School baseball program to a dominant run of nine semifinal berths, six state championships and 300 wins in his career.
Sugg was also recognized nationwide, as the 2003 National High School Baseball Coach of the Year.
The titles came in bunches for The Dalles Indians – 1993, 1994, 1997, 1999, 2001, 2002. In 1995 and 1996, the Tribe made a run all the way to the semifinals. In 1998, TD lost in the state championship game, 9-4 to Phoenix High.
He deferred much of the credit to the athletes.
"We were successful because I had great kids on these teams," Sugg said in an earlier interview. "All of these kids in all of these years, I have been blessed with a good group. I always had a goal that we were going to out-work everybody in the state. They bought into the program and they worked hard to accomplish so much."
Sugg graduated from The Dalles High School in 1985 and enjoyed a successful athletic career.
On the diamond, Sugg was a first-team all-league recipient as a sophomore, a junior and a senior.
He flirted with a state championship in his final season as an Indian, but his squad lost to Beaverton in the semifinals.
On the gridiron, Sugg added all-league medals to his record as a junior and senior, coming close to playoff berths in the final two campaigns.
From The Dalles, Sugg attended Linfield College in McMinnville, playing football and baseball until graduation in 1990.
Ryan LeBreton won state championships two of his final three years in high school, going back-to-back in his sophomore and junior seasons.
"I am just proud because I watched him work his tail off for so many years," LeBreton said. "That guy dedicated his life to baseball when he was a baseball coach. He lived it, ate it, breathed it and slept it. I am extremely proud to say that I played for him."
While he had several supporters to help guide the way on the diamond, it was on the home front where Sugg received the biggest embrace.
His wife of 23 years (on Dec. 1), Amy, his son Justin and two daughters, Kelsey and Taylor, his mother Pat and father Bill were his rock for all of these years, win or lose.
"Any coach that is successful has to have the support at home," Sugg said. "You are away from the house and you are gone a lot. You spend a lot of time with other people's kids more than your own. You need to have an understanding wife and family. I am so thankful and appreciative for all the sacrifices they made."