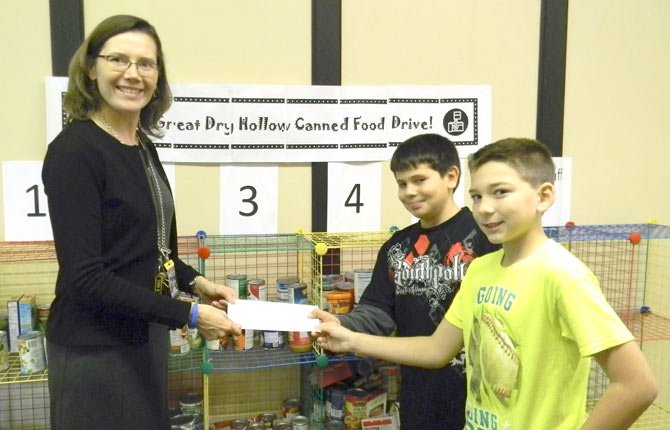 Most people have heard of student government at the high school level, which involves everything from running for office, organizing school functions to planning events.
Meet the Dry Hollow Elementary School student council, composed of student representatives and class-elected officials who work together to coordinate projects which allow them to reach out to the local community.

According to student council adviser and fourth grade teacher Autumn Miller, being a council member "requires a high level of maturity; [students] have to be very organized and good at communicating with each other. They've doing an incredible job of stepping up to the plate this year and really making things happen."
Ever since its inception, the student council has been committed to creating a positive impact on the community by organizing and participating in projects that benefit people outside the school limits.
"We just finished collecting cans for our canned food drive," President Taylor Beeks told The Chronicle during last week's council meeting. "Last year, we collected about 1,452 cans and took them to the food bank at St. Vincent's, where they go to people who really, really need the food."
"Right now, we're also just finishing work on Holidays for Home at Last," fifth grade representative Jasper Huntington said. "We collect food, treats, toys, pet supplies...
It's basically an animal version of Thanksgiving."
The council tries to stay involved in at least one event a month, according to Miller. Students make phone calls to local organizations and plan projects well in advance.
"We really are just advisers," Miller said. "The council is very much student-driven; they do 90 percent of the work. The president runs the meetings and we advisers just kind of sit in the background to throw in our two cents now and again to make sure everything's headed in a positive direction."
Third grade representative Nathan Pyles said that the council's upcoming "Giving Trees" project benefits nursing home residents.
"You get a present for one of them and then you put it under the tree in the school library until it's time to give them," he said. "It's pretty cool."
K.C. Miller, third grade class representative, said Project ELFF will be another thing on the council's agenda soon.
"For ELFF," she said, "we go around The Dalles and get cans of food with the firefighters to bring to other people who need them on Dec. 4."
"Our focus really is to get the kids involved in the community and have them shift their perspectives so they think beyond the small world of the school and start asking themselves, 'What can we do for others and what's going on in the world?"
Student council meetings are held every Wednesday and, according to Miller, are open to "anyone who wants to learn more about what the students are doing."
The latest topic under council discussion is focused on implementing a school spirit week during Read Across America and Dr. Seuss' birthday, which will be an entirely new event this year.
Students are in the process of deciding wha dress-up days will be and are continuing to move forward with ongoing projects as well as generating ideas for new ones as well.