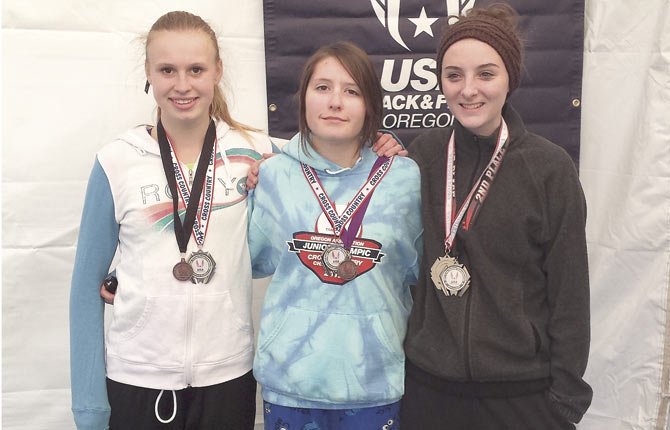 With a trip to Nationals on the line, six of eight The Dalles cross country runners made the cut with top-20 outcomes this past weekend at the Junior Olympic Regional Meet at Western Oregon University in Monmouth.
Top-20 finishers were Jenna Miller, Avery Cardosi, Imily Morin, Maddie Wood, Ian Corey and Jony Nelson.
"To me, it is really neat and great that we've got athletes that have continued to run, two to three weeks past the season," said coach Bob Thouvenel. "They are interested in continuing to compete in these postseason meets. We had two kids that ran PRs and it is rare that they did that this late in the season. That is exciting."
In the girls' 11-12 year old classification, Miller placed 20th in her 3k try with a final marker of 11 minutes and 58.8 seconds.
Avery Cardosi placed ninth at 20:59.8 in the 15-16 year old division, and Molly Nelson, who sprained her ankle during the race, but still finished, hit on 20:35.4 in the 4k event.
On the 5k front, Emily Morin qualified for Nationals in the 15-16 age group by chalking up third-place honors in 20:21.7. Last week, Morin churned out a 20:13.5 to capture third place.
In a step up in the 17-18 class, Maddie Wood strutted out to 20:19.0, where she placed second.
In their 5k event last week in Monmouth, Wood stopped the watch in a solid 20:10.9 for first place.
Of the three boys who signed in for running action, Corey had the best finish of the trio with 13th place in his try at 5 kilometers for a final time of 20:46.4. For Corey, this was just a few shades behind last week's tally of 20:23.9 for ninth place in the 17-18 class.
Nelson turned in a 17:47 for 20th place in the 15-16 5k race, and Andy Felderman added 38th place at the same 5k distance at 19:36.0.
With a large group qualifying for the National Meet to be held on Saturday, Dec. 14 in San Antonio, Texas, Thouvenel is looking for a residual effect for his varsity and junior varsity teams in the near future.
It is a good start. It has been more than 15 years when TD had that many athletes vault to a higher level on the running landscape.
"We hope that it creates more interest and hopefully next year we will have more middle school and high school kids out for cross country," Thouvenel said. "Both Mandi and I are excited that we got this many kids that have done well and are continuing to work out."
With the thought on staying on the workout trail, Thouvenel said the quartet of Nelson, Cardosi, and Morin and maybe Miller will still be hitting the courses at Sorosis Park in preparation for the biggest stage.
"They need to continue to work hard," Thouvenel said. "There are three weeks until the next meet. They need to try to continue to keep their level of practice to where it was during the regular cross country season to be able to compete against these top runners."