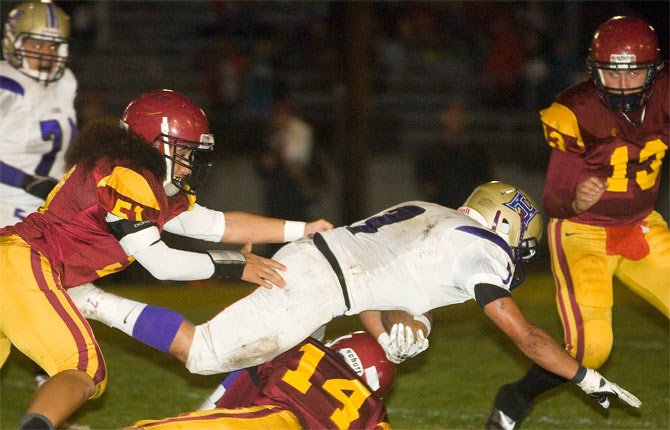 To the casual observer, there are reasons to feel encouraged by the defensive numbers put up by The Dalles Wahtonka football team.
In five categories, the Eagle Indians saw an uptick in totals, including interceptions, sacks, tackles for loss and time of possession.
With those progressions made under first-year coordinator Rich Belanger, 12 players earned a spot on the 2013 Columbia River Conference all-league list.
"From the first week, we definitely saw a big improvement defensively," said TDW head coach Steve Sugg in an earlier interview.
This past season, the Eagle Indian defense picked off opposing quarterbacks 14 times and recovered eight fumbles.
They had 17 sacks from nine different players. Of the 511 tackles logged by the Tribe, 87 went for a loss of yardage.
Leading the charge on defense was the first-team trio of Connor Shortt, Lio Tunai and Kauone Sefo.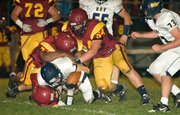 From his defensive lineman spot, Shortt logged a team-high 60 tackles, 51 solo with 14 for loss. He had a sack, a forced fumble and a recovery as well.
Shortt also defended two passes and had three quarterback hurries.
Although Tunai did not play a full slate of games, he made an immediate impact in his six-game stretch with 22.5 tackles, 19 solo and five tackles for loss. The senior notched a pair of sacks, defended one pass and had a pass breakup.
With the control at the line of scrimmage, Sefo was afforded the opportunity to roam free at linebacker with big numbers.
The senior racked up 47.5 tackles, 41 solo and 11 of those went for a loss.
Sefo finished second on the team with 4.5 sacks and had two interceptions, five pass breakups, seven passes defended and two quarterback hurries.
One of the main reasons this defensive unit had the ability to excel was due to the punting of senior Nolan McCall.
Coming off a stellar 2011 season where he was a first team winner, McCall was a second team selection in 2012 where he had an average of 31.2.
This fall, McCall punted 18 times for 659 yards for an average of 36.6 yard per boot.
He had a long of 54, had three punts land inside the 20-yard line and three of his attempts sailed for 50 yards or more.
TDW held opposing offense to 45 of 123 on third downs, and 15 of 39 on fourth down conversions for 38 percent.
In six games this season, TDW held teams to 28 points or less, going 5-1 when that occurred — the lone loss came at home on Oct. 4 in a 28-14 loss to 4A state championship game qualifier, Ridgeview.
All told, opposing offense posted 3,892 yards of offense, but just 2,033 through the air for the state's 28th-ranked scoring defense (32.8 points a contest).
On the second team were linebacker Chaise Shroll, and defensive backs Austin DeHart, and Austin Wilson.
Shroll had 44.5 tackles, 41 solo, nine tackles for loss, one sack and two passes defended.
DeHart had 40.5 tackles, five tackles for loss, one interception, six passes defended, two fumble recoveries, one forced fumble and two kick blocks.
Wilson totaled 29 tackles, had one sack, two interceptions, six pass breakups and eight passes defended.
Four players earned their high regard on the honorable mention team with Mike Pifer, Riley Bardes, Zach Cantrell, Wilson and Zach Nerdin taking home certificates for their efforts.
Pifer, a senior defensive lineman, had six tackles, and Wilson had six punt returns for 87 yards for a 14.5 average.
Bardes, a junior linebacker, picked up 49.5 tackles, 42 solo and added one tackle for loss, one force fumble and a half a sack.
Cantrell displayed his knack for making the big play on defense, as he had two interceptions, six passes defended, four breakups and 26.5 tackles.
Nerdin, the senior safety, had 37.5 tackles, four for loss, three interceptions and two breakups.
While it is a good sign to see so many names represented on the all-league selection team, there were three snubs, which had solid numbers this season.
Sophomore Devin Wilson had his hand in many categories with 37.5 tackles, 12 for loss, five sacks, three interceptions, three fumble recoveries and six passes defended.
Senior linebacker Billy Brace tallied 37 tackles, eight for loss, had three sacks, two passes defended, one fumble recovery and a blocked kick.
Another senior left off the list was Blake Diede, who reeled off 29.5 tackles, one for a loss, two passes defended and one fumble recovery.
Sugg expressed pride when talking about bringing in a new philosophy to an older group who bought in from the opening of camp and beyond.
"We have a great group of seniors and I'm very proud of them, but I wish I could've had a couple more years with them," said Sugg. "It's been a great year for them. I think they'll go on and be very successful in whatever they do in the future."
Numbers are from www.sportsstatservice.com.