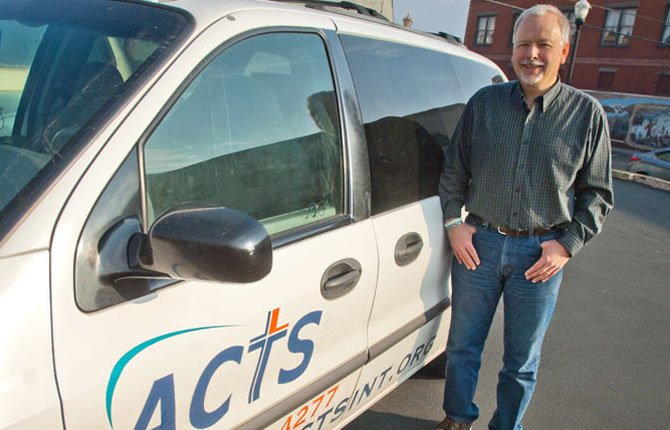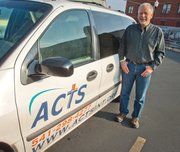 Even now, as his ACTS (Acclaiming Christ Through Sports) youth ministry celebrates its 25th year, Joe Martin still has moments where he's reminded of the impact that almost wasn't.
He's seen the lives that have been changed, in ways subtle and large, over the evolving course of the ministry, and still thinks sometimes how close he came to not starting the program, simply through letting life get in the way.
Dinner benefit marks 25th
ACTS will be celebrating its 25th anniversary with a fundraising dinner on Saturday, Dec. 7 from 6 p.m. to 8 p.m. at St. Peter Parish Hall, 1222 W. 10th St. in The Dalles. The dinner came about because a member of the ACTS board said the 25-year milestone was "a big deal," said ACTS founder Joe Martin.
"Most non-profits don't make it five years, so for us, number 25 is a big deal. And so, yes, it's a fundraiser, but its more celebrating 25 years and the impact that we've had."
The dinner features three main dishes, including salmon, and costs $20 per person.
For more information, call the ACTS office at 541-298-4277.
After 10 years, Martin brought a board of directors into his organization, and became a non-profit. It was the point when he decided to sell his business and devote himself full-time to his ministry.
As he was writing his first fundraising letter for his new nonprofit, it struck him like a thunderbolt that he almost didn't start ACTS, and he thought of all the kids he wouldn't have met, and whose lives wouldn't have been impacted.
"We would've missed all that. And that was huge, because for so many it was a big deal. So many kids say, 'I don't know where I'd be without you.'"
One kid in particular just recently has made a turnaround in his life because of ACTS. He was heading down a path that "scared me," Martin said. Now, he's making good decisions "and coming out of his shell and healing from hurts in his life that have been major."
Martin was jolted into starting ACTS by the death of his older brother, which gave him the realization that life is short, and the youth ministry that he was "always meaning to get around to" then became a pressing matter.
Martin didn't grow up attending church. Rather, sport was his god. Growing up the third of seven children, he had what he called "ultra middle child syndrome," where he felt lost in the crowd. But he excelled at sports, and the attention and positive feedback he got from it gave him purpose. He could do it all: football, basketball, and especially, baseball.
But in the final play of his second football game his junior year, his knee was badly broken. He lay in the hospital and literally cried himself to sleep, thinking his life wasn't worth living anymore, because what he was good at was taken away.
One night around Christmas, his girlfriend had recently broke up with him, and he felt a voice tempting him to crash his car and commit suicide. It made him nervous, but the feeling passed.
Senior year, he reinjured himself in his first football game, and was out of commission until baseball season.
He achieved his dream of being picked to play in the state Metro All-Star series, and was selected outstanding pitcher. He was on top of the world again, getting scouted by college teams and living his dream.
But two weeks later, he was listening to a Neil Diamond song, "I am, I said," in the car.
The lyrics spoke of an unshakeable emptiness of someone who had achieved great things.
"I realized this emptiness inside me. All this success was never going to fill that emptiness. And it just broke me."
He said he bawled for 20 minutes, then "this peace came over me and I got a vision of working with kids."
He played at a junior college for a year because he was still limping, then took a year off for a rough patch in his life.
His grandpa encouraged him to play for Judson Baptist College – located where Columbia Gorge Community College is now – but he wasn't too tempted.
But he agreed to talk to the coach, Danny Rassmussen, "I realized, this guy has what I'm looking for. He has a relationship with God, which was very obvious from meeting him."
So he played ball there. "That emptiness was still there and I knew I needed to know God in a real way. That was the biggest factor in me going there."
After college, he started a business, thinking someday he'd begin his youth ministry.
At age 26, his other brother, who shared his birthday, was killed in an accident. "God started pressing on me that life is short. You could be talking about this program forever, time to start doing it. It was a real turning point." It took another year and a half, but Martin finally took the plunge and, just after his 28th birthday, on Dec. 10, 1988, he started his youth ministry.
He'd been coaching his oldest son, then in third grade, in soccer, basketball and baseball.
"So I just invited a bunch of kids," he said.
About a dozen showed up at the then-new Calvary Baptist Church in Columbia View Heights for a Saturday morning game of football, followed by a life lesson.
He just shared from his own life, "trying to warn them off things and sharing about God and the plan he has for their lives."
He intended it for kids ages third through fifth grade. But as the kids in the program got older, they bugged him to expand the grades. So it grew to sixth, then seventh, then eighth grades.
Two boys in particular, Marc McAllister, now a local doctor, and Alan Hare, Jr., especially bugged him to be allowed to keep coming. So Martin asked them to become mentors to the younger kids.
"They started helping and I started realizing, 'Wow, they're maybe getting more out of it than the kids are.'" So the mentoring portion of the program was born.
Now, with the ACTS after school program, which meets Thursdays at Gateway Presbyterian Church, some 40 high school and middle school kids help out.
McAllister, a urologist, grew up attending Calvary Baptist — his parents still go, and he still attends the church — and attended the ACTS program.
"ACTS was a really important part of my week growing up," McAllister said. He thought of ACTS as "using sports as a way to reach children and show them how to do both — how to have an active lifestyle and be involved in sports, yet still have a healthy life in Christ as well."
He said Martin "found a way to bring his passion for Christ to sports and sports to Christ. It started out as just a weekend program with a full-time job and now he's managed to make it into a lifelong vocation and not just a side job."
In another unforeseen turn of events, about three years into his ministry, Martin won a Bible in a contest from a Christian radio station in Bend. It was a Bible with annotations about how the lessons applied in everyday life.
It made him realize that he needed to be more accurate about his Bible lessons.
"I'm sure it was almost comical in some ways," he says of his early life lessons. He said to himself, "You need to spend some time reading the word. You don't have much to say."
About five years into his ministry, Martin remembered his childhood baseball buddy Ken Dayley was playing in the World Series. He remembered telling the kids, "I can honestly sit here and say this morning, there's nowhere I'd rather be, because this matters for life."
As an athlete, Martin grew up with goals and purpose. But "for so many kids they didn't have a goal, they didn't have a purpose. So why not get high? Why have good grades?"
It's been very rewarding to challenge kids to seek more from life. He recounted one girl whose parents were both using drugs. She worked hard and put herself through college, taking 10 years to do it.
Martin thinks of the Judson Baptist coach as having a huge impact on him. He also says, "If my brother wouldn't have died, I don't know if I would've felt the urgency."
Martin is quick to say he hasn't done the ministry on his own. "We have an army of volunteers. We couldn't do nearly what we're doing without some people who are incredibly dedicated, because they love kids and they've caught the vision that it really matters to mentor kids and to be there for kids and this ministry is making a difference, is the bottom line."
While he sees the impact he's made, he's humble in his role in it. "I think, 'God, why did you use me?'" He said God uses the weak, and the simple thing, to do his work.
One heartbreaking thing he's seen in his 25 years is the breakdown of the family. While it was not unheard of to grow up without a dad in the house, some kids are now growing up without mom either. "When we register kids now for, example, we say, 'Do you live with your mom?' We don't assume that anymore."
It's also typical to see children with little to no contact with their fathers.
"I know we think kids are resilient and all that, but they're still kids. So many of the choices they make are because they want a dad."
They'll follow the wrong guy, for example, just because he's a guy.
With the celebration of its 25th anniversary, Martin is already looking forward to the next 25, and is expecting exponential growth. "I feel like we're about to explode. I feel like multiplication is about to happen, rather than adding one by one."