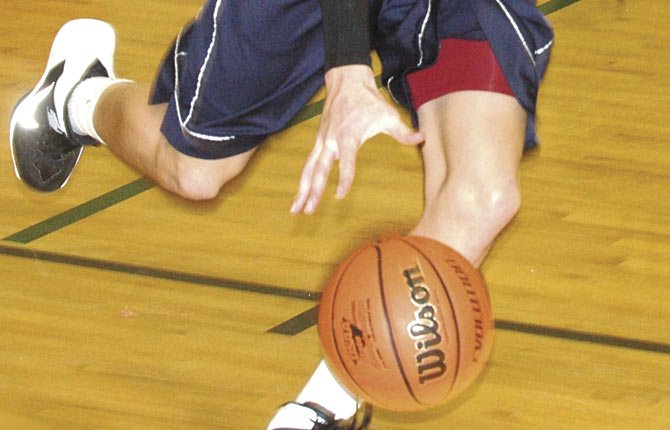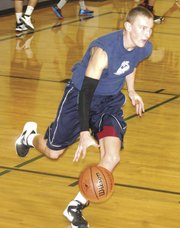 Although The Dalles Wahtonka will be without reigning Columbia River Conference Player of the Year Grayson Byers and a few other graduated seniors, the feeling amongst the returning Eagle Indian basketball players is one of optimism. This could be the year where the core group turns the corner for a playoff berth.
"We have a lot of seniors on this team, which means they have experience," said head coach Bob Townsend. "I know with that, I can call any guy off the bench and they can contribute on either offense or defense. I think one of our strengths is team chemistry. They listen and they know they have all been in this system for a few years, so they know what is expected of them."
Last season, the Eagle Indians finished with an 11-13 overall record and second place in the Columbia River Conference, one win from first place, but did not preserve a playoff berth due to the new power ranking system.
TDW had two of its 13 losses come by seven points, one loss by three points, one loss by two and another loss by one point.
The Eagle Indians were in most games in the fourth quarter despite playing a tough preseason schedule with 11 of 15 preseason games on the road.
For the first time in recent memory, TDW finished undefeated at home in league play (5-0) and wound up 8-1 at Kurtz Gymnasium for the regular season.
In looking at last season's results, this hoops squad nearly doubled their win total from six in 2011-2012 up to 11 and raised their point-per-game numbers up eight points from 43.2 to 51.2.

"The important thing for us is to improve game-by-game. In the preseason, we do not care about wins and losses, it is about getting better and better as the season moves along," said returning point guard Steven Bartells. "We have a few question marks on the team, but the guys we have coming back bring great leadership and work ethic to the table. That is always a good starting point."
One of the main reasons TDW enjoyed such a surge in offensive numbers was due to the standout play of Bartells at point guard.
The senior, who was a second team all league winner a season ago, brought a calming element to the Tribe and made everyone better around him due to his accurate passing.

He led the Eagle Indians in assists and was second in scoring average.
Zach Nerdin is another player who possesses an all-around skill set to a team that went 10-2 this season when scoring 55 points or more.

Behind Byers and Bartells, he was the third leading scorer on the varsity roster and one of three who tallied all league recognition.
"I am really excited," Nerdin said. "We are working hard. It's like we are building things up for something big. With that, I think we have a really good chance this year. Of course, we lost some players, but we have some good people stepping up. We have different people who have the ability to step it up at different times."
Down in the paint, senior Clay Copper brings a physical element to the team along with junior big man Coby Conlee and Chaise Shroll.
Much in the same way as Nerdin, Austin Wilson has speed, size and athleticism to add a scoring option for TDW.
Providing depth at guard are sophomore Devin Wilson and junior Angel Esiquio.
Three or four other players are also available to play dual roles on the junior varsity and varsity teams this season to give Townsend more options this season.
"With smaller numbers, we don't have a lot of guys with a ton of varsity experience, but guys who will work harder and want to do everything they can to help the team win games," Townsend said.

Offense remains a wild card in some ways, but the equalizer – is defense.
Last year, the defense rose to the occasion with a drop of nearly seven points, from 57.8 (2011) down to 50.9 in 2012.
"We have to dictate the tempo. We want to put the pressure on the other team and I think we have some very good athletes to do that," Nerdin said. "The big thing is you got to get a stop on defense, you got to get the rebound and get out in the open court."
In looking at the preseason schedule, the Eagle Indians will be put in a trial-by-fire early with matchups against Beaverton, Sandy, Lebanon, Gresham and Centennial offering the toughest tests.
"For us, I think it will come down just getting better from the start of the season on," Bartells said. "We struggled early in the season (last year), but now we have them back for the start. We just have to build on each game and peak at the right time."
TDW kicks off the season at 7:30 p.m. on Dec. 4 in Portland versus Franklin High School.