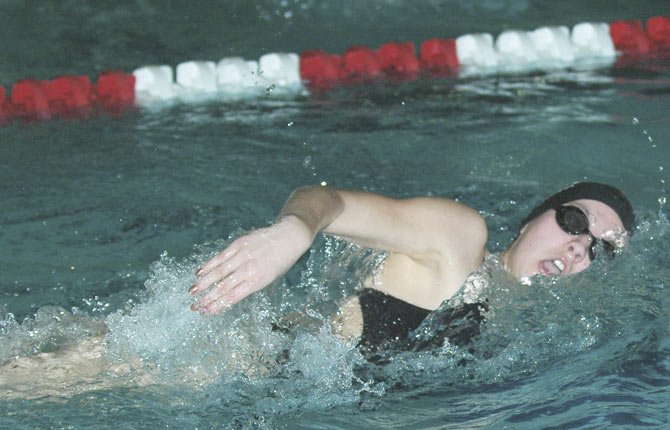 With one week of practices in the books, The Dalles Wahtonka swim coach Scott McKay is still working on determining the strengths and weaknesses of the team, as it heads into a new season.
However, he is feeling good about a re-stocked roster of boys and girls led by two-time state qualifier Erin Nelson.
"We lost several good swimmers who graduated last year, but we have a strong nucleus returning plus some new swimmers to fill the holes," McKay said.
The girls have a very stout returning core with Nelson being flanked by Lauren Thalhofer, Allie Wood and Bri Staavas-Jamack.

"Bri is strong in her specialty of backstroke, Allie in freestyle and individual medley, and Lauren in free — particularly the longer distances," McKay said.
In addition, there will be a large group of first time swimmers, including Danielle Perry, Annessa Clear, Hannah Mazeski, and freshmen Hannah Weeks, Maya Hernandez, Molly Nelson, Emily Peterson, Victoria Little and Katelyn Posey.
"Most all of them have swum competitively before," McKay said of the newcomers. "The new swimmers have a lot of potential and I expect to see significant improvement over the season."
With the hope and uncertainty of young athletes, the great unknown will rear its head from time to time.
Nelson has shown a level of consistency throughout her career at TDW.
"Erin Nelson will be strong in both the long and short distances for freestyle and will be working hard to make state once again," McKay said.
On the boy's side, McKay will field a group without Will McClennan and Ben Dhala, but he still has a strong squad returning in Ming Ou, Christian Benson and Max McClennan bringing leadership, experience and many practice hours to the table.
McKay said that Ou is strong in butterfly, Benson is a standout in the backstroke, and Max McClennan will be swimming freestyle events like the 100 and 200 distances.
Andy Clifford is new to the team this winter and will be focusing on the 100 breaststroke, and all-league football player, Connor Shortt, is making his triumphant return after a couple of years wrestling.
"He will be strong in the freestyle sprints 50 and 100," McKay said.
Rounding out the roster is Rashed Al-Qarra, an AFS exchange student from Jordan, who will be working his stroke up to a competitive level.
"With the addition of Andy and Connor, our boy's relays should be stronger and more competitive this year," McKay said.
In order to gain a competitive edge against some of the other teams like Hermiston, Pendleton and Hood River Valley, McKay said the focus for this year is to improve on technique for that edge.
And while there are so many wild cards to play, coupled with some big holes to fill, the Tribe coach said this season's team has the potential to be strongest team in the past several years.
"I expect Hood River to be strong, particularly in the girls where they should dominate and Pendleton in the boys," McKay said. "It is all just one step at a time. The first two weeks is just building a strong foundation on which to build for the rest of the season as we aim to excel at Districts in February."
In the last few seasons, McKay has been able to get the numbers higher and higher with better results.
From just Erin Nelson earning a state berth in 2011-2012 to doubling that total last season with Nelson being joined by graduated senior Mika Hernandez, there are hopes that this program is rising up the ranks.
"With hard work, I believe the team can do some great things this season," McKay said. "I am proud that last year's team, both the boys and girls, were top-10 academic teams for 5A in Oregon with the boys coming in first. So, these fine swimmers also work hard outside of the pool academically."
TDW heads to Pendleton for its first meet of the season at 10 a.m. on Saturday, Dec. 7.
On Jan. 11, the Tribe hosts their annual Eagle Indian Invitational at 10:15 a.m. in Hood River.
Districts start on Feb. 15, and if things go well, the state tournament begins a week later.