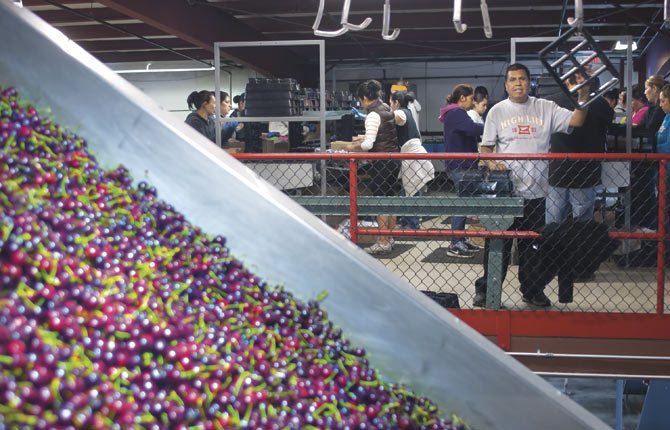 Local agriculture facts
Wasco County ranks 14th in Oregon for gross farm and ranch sales, with $107.9 million in 2012.
Pears, cherries and wheat are some of the county's top agriculture commodities, with wine grapes a rapidly growing industry.
Wasco County is the third top producer of pears in the state, with 5,300 tons raised in 2012. Pears are the eighth agriculture commodity in Oregon by production value — $134.2 million – and are the official state fruit.
Wheat is fifth as a commodity in the state with a production value of $472.1 million in 2012. Wasco County alternates between fourth and fifth place in the state as a producer of soft white wheat, with $23.6 million in farm gate sales on 59,000 acres in 2012.
Cherries hold the 14th spot in the state with a $75.5 million value last year and Wasco County is the top producer of sweet cherries.
Editor's Note: The statistics shown above were provided by the Oregon Farm Bureau and Wasco County Extension Service.
The Oregon Farm Bureau is quick to act politically or legally on behalf of agriculture, an industry that is the second largest economy in the state and provides one out of every eight jobs.
"Agriculture is one of the most highly regulated industries in the nation," said Barry Bushue, president of the state farm bureau. "Our real job is the implementation of policies that are positive to agriculture."
He is an east Multnomah County berry and nursery stock producer and vice-president of the American Farm Bureau, which includes nearly 3,000 local bureaus throughout the U.S. and Puerto Rico.
Bushue is overseeing a Dec. 10-12 conference in Bend that will be attended by delegates from Wasco County and 31 other farm bureaus around the state. They will be discussing the 2014 legislative session and potential bills that will either be opposed or supported.
An Oregon State University study from 2011 determined that agriculture generates $25 billion in revenue each year as goods are produced, processed, packaged, marketed and exported. There are 38,800 farms and ranches in the state, occupying about 16.4 million acres.
"Just about every public policy issue — roads, bridges, taxes, labor — has some bearing on agriculture so we are always keeping an eye on things," said Dave Dillon, vice-president of the state farm bureau.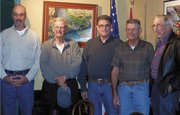 Each of Oregon's 36 counties is represented by one of the local bureaus that operate as independent federations when it comes to fundraising and activities, but follow common operating policies set at the state level.
Dean McAllister of Wasco County serves on the state board of directors and is vice-president of the local bureau that is headed by Fritz Ellett, with Karen Polehn serving as secretary/treasurer.
Measures deemed unfriendly to agriculture, such as 16 anti-Genetically Modified Organism bills proposed in early 2013, are strongly opposed by the bureau, which encourages members to make their voices heard and put political pressure on elected officials.
Grassroots activism succeeded in killing every GMO-related bill on the legislative agenda earlier this year. These proposals would have banned the raising of specific crops and created a host of new regulations for production.
Not only did the farm bureau convince legislators to let those bills die, they "scored a big victory" related to GMOs in October's special session. State officials approved Senate Bill 863, which prevents county governments from regulating agricultural seed and nursery stock, including biotech crops.
Bushue said local officials do not have the expertise or resources to properly regulate agriculture. And having agriculture laws set at the county level could create a confusing "patchwork" of standards, especially for farmers with fields that cross county lines.
"I supported the bill because I believe that the management of GMO regions should be under the purview of the Oregon Department of Agriculture, which has the budget and expertise to make these kinds of decisions," said Rep. John Huffman, R-The Dalles, who addressed the issue at the Wasco County Farm Bureau's annual meeting in late October.
There are currently 102 members of the local group, which was originally formed in the 1940s and then split to represent different areas of the county before merging into one entity in 1967.
On the federal front, the state farm bureau is suing the federal government to protect fruit growers from enforcement action without proven justification.
The organization's legal team is seeking to obtain documents that explain why the U.S. Department of Labor blocked shipments of perishable crops during a 2012 dispute over wage claims.
The agency invoked the provision of federal law known as "hot goods" that was crafted to deal with serious infractions at garment factories around the turn of the century.
Three blueberry farmers in Oregon were forced to pay a total of $240,000 to resolve claims so their fruit could be moved to market.
At issue was a Labor inspector's contention that it was impossible for one worker on each of the three farms to have picked as much as payroll records indicated.
Therefore, the berry grower was determined to have violated minimum wage law by having two people work on the same ticket and paying only one individual.
In addition to requiring the fine be paid on site, Labor demanded that the farmers sign consent agreements acknowledging wrongdoing, which prevented them from fighting the charge.
The farm bureau saw the "heavy handed" enforcement tactics as not only unfair and unprecedented, but having the potential to harm any business with a workforce.
After a Freedom of Information Act request for records about Labor's use of the powers went unanswered, the farm bureau took legal action.
Dillon said Labor needs to explain whatever policy changes have taken place to warrant taking such strong action.
He said out of 400 uses of "hot goods" enforcement across the nation in 2012, nine involved agriculture.
"Something was different here, it was not normal practice," he said.
Because of the emerging concern with Labor actions, Dillon said the farm bureau is educating agriculturalists about what their due process rights are when an inspector shows up for a random visit. In the past he said most inspections were complaint-driven, something that appears to have changed.
"We want people to comply with the law, our dispute isn't with that, it's just the tactics they've been using," he said.
The farm bureau is focused not only on state and federal policy-making decisions but promoting agriculture as a business for the next generation of Americans. The organization also seeks to honor farmers and ranchers whose families have worked the same land for at least 100 years.
More than 1,177 Oregon farms and ranches have been in the same family at least one century and 26 more than 150 years.
The Young Farmers and Ranchers Program is designed for producers between the ages of 16 and 35 and builds leadership skills. In addition to networking with others in the same industry, participants get to travel and join activities that advocate for agriculture.
"I think it's one of the best leadership tools available anywhere," said Anne Marie Moss, communications director for the state farm bureau.
In December, the youth arm of the organization will hold a Discussion Meet to showcase effective communication within a group.
Contestants will be evaluated on the exchange of ideas and information on pre-determined topics. The winner will receive a prize and the opportunity to compete at the national level in January.
Recipients will also be named for the Achievement Award and Excellence in Agriculture Award, both of which recognize people actively involved in their community and farming practices.
The farm bureau also organizes a summer program through Oregon State University that offers K-12 teachers an opportunity to incorporate agriculture into their classrooms.
With many young people deciding not to follow in their parents and grandparents footsteps to operate the family farm or ranch, Dillon said there is a national security issue to be addressed. A nation that does not grow its own food is at risk and farm bureaus are seeking to reverse the current trend and keep smaller farms alive and well.
Toward that end, the state farm bureau awards about $70,000 in scholarships annually to students who are interested in an agriculture-related career. Wasco County provided three scholarships in late October, a total of $1,800 that was raised, in part, from the annual pancake feed and auction in February 2013.
Voting members of the farm bureau must generate at least $2,500 in gross incomes from an agricultural operation and are allowed to participate at both the local and state level of decision-making.
Supporting members may not be farmers but these individuals in some way are involved in agriculture activities. Associate members have no ties to the industry but want to show support.
For online information about Oregon Farm Bureau access www.oregonfb.org. The website features the Oregon Bounty's Farm Stand Guide that lists the locations where residents and visitors can find home-grown foods and products.
Polehn can be reached for more information about the Wasco County Farm Bureau at 541-340-9731.
The local chapter meets at 7 p.m. on the second Tuesday of each month at the Polehn Farm Packing House, 2121 Dry Hollow Road in The Dalles.
Meetings do not take place in December due to the convention and July because of harvest.