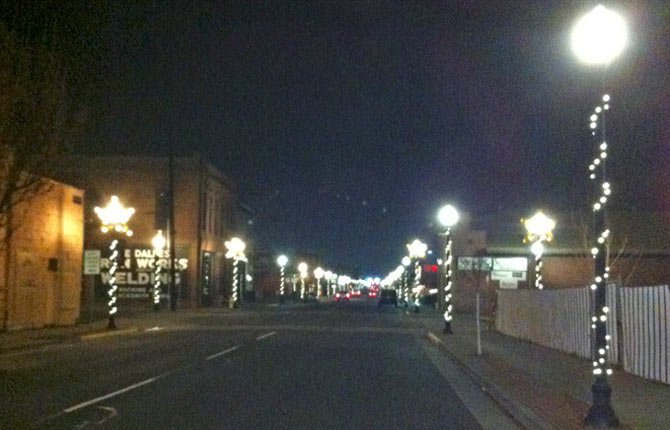 A GROUP OF 15 VOLUNTEERS braved the chill Nov. 23, and successfully spiraled 120 white Christmas light strings around the historic streetlights on Second Street, Union Street and the roundabout to make downtown The Dalles a little more festive for the holidays. The project was a partnership between The Dalles Main Street, The Port of The Dalles and The Dalles Area Chamber of Commerce. The group was comprised of city and Northern Wasco County PUD employees, The Dalles Chamber Young Professionals (YoPros), Main Street and other volunteers.
"This has been a fabulous partnering of different agencies and community members to help bring the Christmas spirit to The Dalles. I am so excited to see our town all sparkly for the Christmas season," said Lisa Farquharson, Chamber executive director.
The project was conceived by several individuals and organizations wanting to make The Dalles a more festive destination during the holiday season. "It was truly a collaborative effort and represents the capacity of folks coming together to make something happen," said Michael Held, Port development specialist.
"I also want to thank the volunteers for stepping up and decorating the transportation center for the veterans," said Chuck Covert, president of the Main Street Board and owner of NAPA Auto Parts.
Coffee and donuts were donated by Grinder's Coffee and Cousins Country Inn.

Due to a shortage of lights, there are a few street light poles on the west end of Second Street that have not been decorated. An order has been placed for additional lights which will go up as soon as possible.