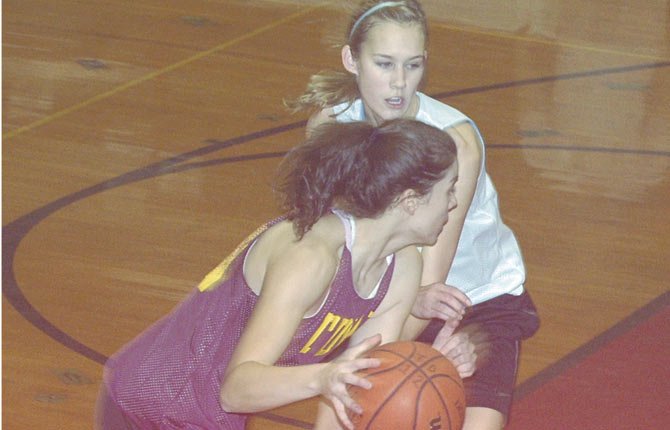 If only they can go four months without any significant injuries, The Dalles Wahtonka girl's basketball team can truly realize its potential and be a major threat in the 5A landscape.
It is a new season, with some all-league returners and some new weapons in tow, so prevailing hope is that this group could fight to get over the hump and make a big splash.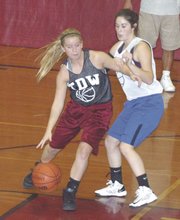 "I am excited about this team. We have so many good players here that are ready to go," said reigning Columbia River Conference Player of the Year, Emily Bailey. "This team gives us a lot of strengths in different areas, so we should be able to find something that works for us. We just need to gain more experience."
Bailey is the lone returning senior, and fellow senior Morgan Triperinas is back in the fold to contribute at guard.
The junior class has Katie Conklin, all-league post, Olivia Starks, Morgan Goslin and Kellina Coy on the roster for a varsity team that finished 17-7 last year.
TDW had another devastating season-ending knee injury to all-league point guard Anndria North and the Tribe coaching staff broke in four freshmen and two sophomores into the varsity fray.
Long-range shooter, Lori Cimmiyotti, brings back some scoring punch, Ruthie Ford is a quick guard who can create her own shot, and this a promising quartet of freshmen in Brooke McCall, Iliana Telles, Sierra Watson and Kailin Hoylman, who bring a successful pedigree from the middle school classification.
"We have a good shooting team, and we are quick," Conklin said. "I am looking forward to playing some good basketball this season. We have a lot of talent, and with a young team, I am so excited to see the potential."

Last year, the Eagle Indians enjoyed being on top of the 5A division with a No. 1 ranking and won 17 games, six in league play.
TDW had marquee victories against La Grande, Sandy, Corvallis, Roseburg and Aloha and added a 2-1 record versus Pendleton and a 3-0 sweep over Hood River Valley.
TDW won its state play-in game at home against Wilson and lost to Lebanon in to deny them a chance at punching a state ticket to Matt Court in Eugene.
For the last few seasons, they have been on the cusp of taking their game to the state site.
"We have been so close, but something always seemed to happen to us like injuries and stuff, so it has been a little frustrating," Bailey said. "The expectations are still high for us though. From last year, we learned that we could play with anybody as long as we play hard."
On the offensive end, the Eagle Indians have shown an ability to score points, especially given the inside-outside combination of Bailey and Starks.
Last year, Bailey averaged nine points, 6.7 rebounds, 2.5 blocks, five steals and 4.1 assists per game.
With her 6-foot-2 inch frame dominating the interior, Starks scored 8.9 points and grabbed 6.7 rebounds a tilt. She added 1.1 blocks, 1.2 steals and .5 assist a game as well.
When TDW scored 46 or more points, they were a perfect 11-0.
"We're definitely going to count on Emily as our leading scorer. She's an overall athlete, tough offensively and defensively, and she's a big scoring threat," said assistant coach Craig Compton about Bailey. "Olivia is always going to be tough for us too. She is as good as anyone inside. I know she has been working very hard on her game and so far, you can see those results."
At first glance, scoring between 38-50 points may not look earth shattering, but the calling card of any TDW girl's team is defense.
There is an influx of young talent on the bench, so this would give head coach Dan Telles and Compton the option of using pressure defense to put the opposition on its heels.
TDW had the state's No. 7-ranked scoring defense at 39.7 points a game, and when they held teams to 31 points or fewer, they were a perfect 8-0.
"One of the great things about this team is we have the depth, size and speed to try different things defensively," Compton said. "We will not rely on one player to be our defensive leader. This is going to be a five-man defense. We are going to pressure the ball so we can create easy scoring chances."
Conklin knows that his team has the talent and heart to compete, so it is a matter of putting all of it together for some key wins, and a late-season surge. Building on the experience from last year, this squad is hoping the saying that, 'once you do it once, it is easier to do it again,' rings true for the Eagle Indians.

It all comes down to execution.
"It is the little things that will help win close games," said Bailey. "We have to rebound and play good defense and the rest will come along. We have talent on this team and we know what our strong points are, and so we have to execute better and play tough."
In the 5A Columbia River Conference, the likes of Pendleton, Hermiston and Hood River present many challenges.
The defending league champion Bulldogs bring back a good roster, as does Pendleton.
Hood River, even with youth on the roster, still is a tough matchup.
In the end, there are no easy games.
"We have to be ready to play every game or we end up on the losing end," Compton said. "If we can play our style of basketball, we should be in good shape."
TDW hosts Roosevelt at 7 p.m. this Friday.