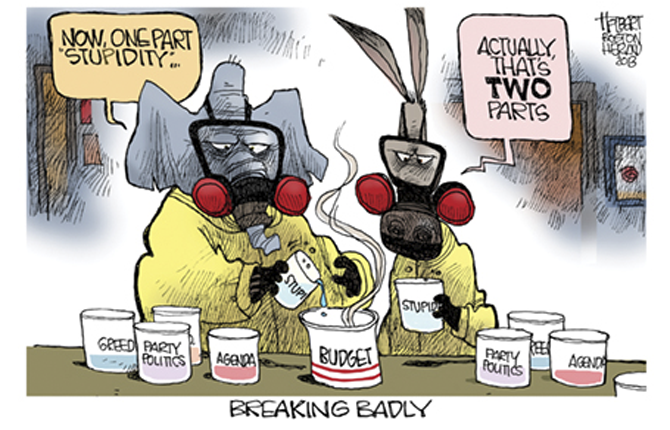 As if a Congress-caused federal government shut-down doesn't rankle enough on it's own, one of the most unreasonable aspects of the situation is that U.S. senators and representatives continue to get paid.
Political brinksmanship may make for good sound bites, but it's not good government to take hostages (government workers and the rest of us) over a bill that was lawfully passed by a majority of legislators.
In case any of our duly elected legislators need a lesson from Political Science 101, bills that are passed by a majority of the nation's elected legislators in both houses and signed by the elected president of the United States become law.
Those who don't like that law may work to pass a bill of repeal. They may work to defeat those who played a role in passing the bill.
But they may not, as the Washington Post wrote, undertake "recklessly, breathtakingly, wastefully irresponsible derelictions of leadership."
And yet they do.
Bound within their own rigid ideology, they have thrown the stability of our domestic economic recovery and our reputation as a stable world partner to the wolves.
An Associated Press story about the beginnings of this shut-down talks about the most outwardly visible effects of government shut-down: the Washington zoo's online feed going dark, notices on federal websites and email, suspension of Capitol tours, layoff of White House groundskeepers and the like.
The most immediate concerns are taken care of. Social Security, Medicare and Medicaid will continue to be paid (as will, unfortunately, Congress). The military will continue to be paid.
"You may see a partial shutdown for several days," Rep. Marsha Blackburn, R-Tenn., told Fox News. "People are going to realize they can live with a lot less government."
That may be true in the short term, but if this shutdown goes on for days or weeks — as did the 1995-96 shutdown between GOP Speaker Newt Gingrich and Democratic President Bill Clinton — we will see the impact grow, particularly in the economic arena, where factories, construction projects and other work frequently requires federal approval or oversight.
The picture gets more grim two weeks out. That's when the U.S. government reaches its debt ceiling and could potentially default on its financial obligations.
One of the last times that even came close, the nation's triple-A credit rating was downgraded. That rating is based on a number of factors, one of which is confidence in the nation's leader's to do their jobs.
Since that downgrade, there's been little evidence to suggest any improvement at all in our elected leaders' ability to lead.
The U.S. political system is based on the idea that the parties involved present their ideas in the public arena then work toward a compromise that a majority of the elected leaders will support.
The Affordable Care Act itself is an exercise in compromise that backs well away from the idea of nationalized health care that many liberal advocates support in favor of market solutions. That's where the compromise was forged. Now it is a matter of appropriately funding the law that was passed.
But ideologues on both sides of the aisle have forgotten how to compromise.
They need to remember, get back to work, earn their pay and end the shutdown.