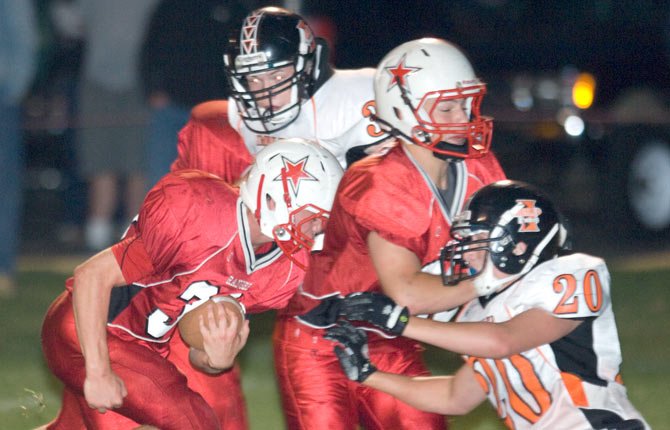 Usually teams that exhibit strong practice habits win ball games.
Such was the case for the No. 5 Dufur football team.
Cole Parke and Nick Little rushed for more than 100 yards and a combined five touchdowns, and the Rangers scored the first 60 points in their 60-16 victory Friday in Big Sky Conference gridiron play in Echo.
"We had by far our best week of practice this week and probably our best performance of the season tonight," said Dufur head coach Jack Henderson. "Our starters came out and dominated in each phase of the game. Our younger kids are improving daily and stepping up as valuable depth for the second half of the season."
The Rangers scored four times in the opening quarter, using two jaunts by Little (70 yards, 65) sandwiched by touchdowns from Trever Tibbets (25) and Parke (15) to go ahead by a 32-0 margin.
Staked by their healthy advantage, the Rangers hit paydirt four more times in the second quarter to swell the lead up to 60-0.
The host Cougars made the fans happy with a kickoff return to make it 60-8 at the break.
Freshman Bailey Keever jumpstarted that surge with a 37-yard scamper, Parke kicked out a 30-yard run and Tibbets scored his second touchdown of the game to make it 54-0 with time running out in the second frame.
Finally, Parke hit the trifecta with a 43-yard scoring run to cap the barrage.
Down by 52 points midway through the third quarter, Echo hit the end zone again on a long run by Devin Sather.
Little led all running backs with 169 yards and two touchdowns, and Park went for eight carries for 115 and his three trips to the end zone.
Tibbets had five rushes for 89 yards, and speedster, Jon Keyser, added eight totes for 53 yards.
Dufur ran 29 plays and amassed 457 yards, 426 yards rushing, and through the air, Parke completed 2 of 3 passes for 31 yards.
Nick Little had a 23-yard grab and Tibbets made one catch go for eight yards.
"The offensive line established early that our backs weren't going to be getting hit anywhere near the line of scrimmage," Henderson added. "We scored on the second play from scrimmage, and all of our scoring plays came on short drives. We have multiple weapons that can go the distance on any play."
With an unblemished record of 5-0, the Rangers (2-0 Big Sky Conference) now have a tough test at 7 p.m. Friday for a non-league tussle versus St. Paul (2-3) on Homecoming night.
The Buckaroos are coming off a 60-0 shutout win over Ione.
"There is always a ton of interest when Dufur and St Paul get together, probably the best two programs in the state over the last 20 years," Henderson said. "(It) should be a great game."
In other eight-man football play this past weekend, the Sherman Huskies suffered a 44-14 setback at home against the Triad Timberwolves.