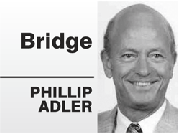 Winston Churchill said, "Men occasionally stumble over the truth, but most pick themselves up and hurry off as if nothing had happened."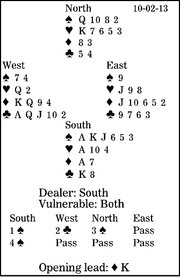 When a declarer stumbles, making a mistake, it is the job of the defenders to make sure that he falls, unable to pick himself up and still make his contract.
In today's deal, which, yes, bears a remarkable resemblance to yesterday's, South ended in four spades. And when it was originally played, two errors were made, which balanced each other out. West led the diamond king (under which East accurately dropped the jack to show the 10 as well). South ducked, took the next diamond with his ace, drew two rounds of trumps ending on the board, played a heart to his ace, and led a second heart. When West played the queen, declarer ducked in the dummy. Now West cashed the club ace to stop an overtrick. What were the two mistakes?
In the modern style, North responded three spades, showing a weak hand with four-card spade support. With a game-invitational hand, North would have cue-bid three clubs. This style allows responder to bid either constructively or obstructively.
Now to the errors. First, as we saw yesterday, when South led a low heart from the board at trick five, he should have put in his 10. East would have been kept off the lead.
Second, when South won with his heart ace, West should have realized that he needed to get his partner on play for a club lead through South. West should have sacrificed his heart queen under South's ace. Then South would have fallen on his face.