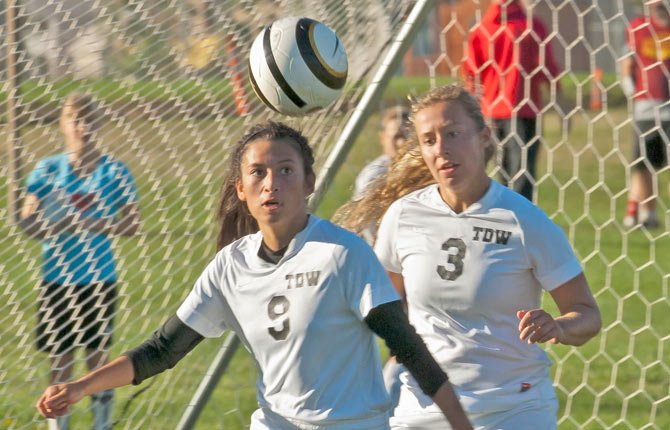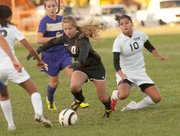 After scoring a 2-2 draw in their first Columbia River Conference girl's soccer game of the 2013 campaign, the overall vibe in the post-game huddle was glum to say the least.
The Hermiston Bulldogs fell behind 2-0, but got a late tally in the first half and added a goal by Giselle Garcia in the 82nd minute to work a 2-2 tie Tuesday in 5A soccer play in The Dalles.
"Nobody is happy about the result tonight. It is the quietest we have been after a game," said TDW coach Colby Tonn. "I think we realize that was one we gave away. We need to put both halves together in order to get the results we want. Now, we have to come in tomorrow and try to build on the things we did right."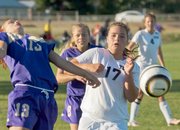 TDW actually got a quick jump on the flat-footed Bulldogs with two goals in a span of four minutes.
At the 27-minute mark, Hannah Walasavage slammed home a rebound off a shot by Melissa Cruz to make it 1-0 T-Dub.
The Eagle Indians kept the pressure on with action in front of Hermiston goalkeeper Kylie Harrison.
Off a transition play, TDW had an initial shot by Brooke McCall careen off the crossbar, and then a scramble ensued with McCall, Cruz, Walasavage and Ruthie Ford taking swings at the loose ball.
Finally, Ford eyed her shot and lofted a soft kick over the head of the Hermiston keeper for the goal and a 2-0 TDW cushion.
Right before the first half whistle blew, Hermiston got the break it needed.
A clearing pass created an odd-man rush by speedy forward Darian Lewis.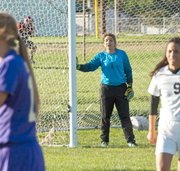 Lewis sped past a TDW defender and rifled a shot to the far left side of the net past TDW goalkeeper Nayeli Lopez to inch the Bulldogs to a 2-1 deficit at the break.
That goal hurt, but the Tribe was still up and still able to create chances.
"We got out to that 2-0 lead and looked good," Tonn said. "It is always said that a 2-0 lead is the most dangerous in soccer and tonight was the reason why. We let them get one back before halftime, and then all of a sudden, it is a one-goal game. That was a big play for them."
Both teams traded a handful of scoring opportunities throughout the second half, but Harrison and Lopez were top goalkeepers making all of the stops.
In all, Harrison made five saves, while Lopez backstopped 13 Bulldog shots.
As time was ticking down, this match went into extra time, when Garcia had a rebound chance in the 82nd minute and hit a knuckleball shot that trickled past Lopez and two TDW defenders over the goalline for the tying goal.
It was a welcomed point on the road for Hermiston, who entered Tuesday riding a four-game losing streak.
They had been outscored 16-0 in that span.
"It took strength mentally to win," said midfielder Shaelynn Gilbert. "We were confident we would come back. We played down to their level and then we started playing our game (in the second half). I think we gain energy from this."
On the bright side, Tonn said his team would have one more crack at Hermiston on Oct. 17 and two each against Hood River and Pendleton.
"A lot of the mistakes tonight were mental," Tonn said. "We were not taking the extra step. We preach that over and over, and talk about it and practice it and all that. Until we do it, these kinds of things are going to happen."
Up next, as part of a three-match road trip, is another game at 5 p.m. Tuesday in Pendleton (3-3).