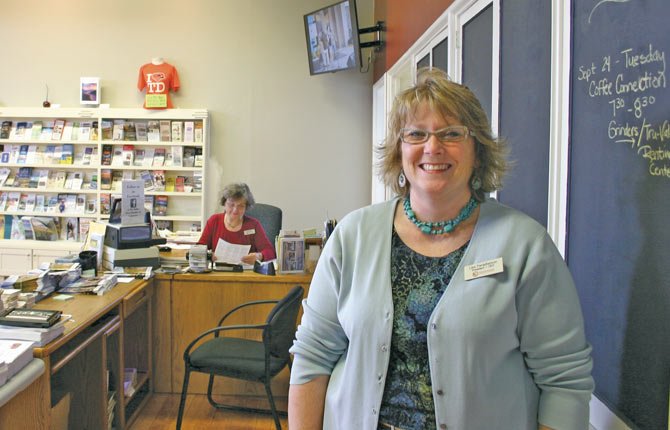 Folks who haven't been to The Dalles Area Chamber of Commerce lately will notice some changes just inside the door.
Bright, crisp paint, expanded brochure offerings and a smiling face of welcome in easy view are the first changes that come to notice.
The furniture has been rearranged so that longtime employee Lois Hobbs can more easily welcome visitors. An expanded selection of local brochures is on the familiar east wall, but another wall of regional brochures augments the selection from the opposite wall.
It's all part of the plan, said Lisa Farquharson, the Chamber CEO for almost a year now.
"Our goal — and there's still more coming — is to really beef it up to make it the visitor's center for Wasco County.
Blackboard space on cupboards announces local events and a new wide-screen monitor mounted near Hobbs' desk features local programming and will soon spotlight the area's businesses.
"We're creating an environment that looks up to date, like we know what we're doing and have technology," Farquharson said. "An environment where people want to come in and locals are proud of. We want it so other chambers don't hesitate in sending somebody to us."
In 2014, the chamber will be adding a new phone system that will also spotlight local business.
The outward changes are just part of what Farquharson says are new ways of looking at the chamber's structure and how it does things.
"I think we've added a positive way to look at things," she said.
Not every experiment is a huge success, Farquharson admitted.
"The Open for Business Tour wasn't a huge success, but it was something different. It was an opportunity." In contrast, the Charm Trail has "gone gangbusters."
The Charm Trail started in May. It features a charm bracelet and representative charms for each local business. The idea is to encourage prospective customers to come in and visit the various businesses to see what they have to offer.
"We're just now ordering our third batch of 100 for the businesses," Farquharson said. "Us, personally? We've sold [or given away] at least 300 charms."
That's a lot of customers in stores since May.
They are updating the Charm Trail list with six new businesses this fall, including a seasonal charm for Renkin Farms' pumpkin season.
All told, the Charm Trail features 44 businesses offering a total of 50 charms.
"It's working," Farquharson said. "People are loving it."
The chamber is also providing information about local businesses to visitors from the tour boats that arrive in The Dalles at least once each week. Those efforts are reaping benefits. More people are peeling away from the usual tours of Maryhill Museum and the Columbia Gorge Discovery Center to wander through downtown.
Cannon Packer and Sunshine Mill have both reported tour boat visitors.
"So they are making it all the way to the other end of town," Farquharson said.
She has also put greater emphasis on social media than in the past, with the help of new marketing coordinator Khozaima (Khoz) Jivanjee, who is tapping into social media sites that appeal to younger people.
"He has helped build us up to another audience that we weren't reaching," Farquharson said.
But they haven't forgotten the main sites.
"Our goal is by April to actually have a Visit The Dalles Facebook page; "1859 Oregon magazine is running a contest and social media campaign. It's a test to start a page from scratch and see what the numbers are."
The page should be up and running at the beginning of April, in time for the Northwest Cherry Festival.
Farquharson also wants to beef up the Cherry Festival and is working with Oregon Cherry Growers to help beef up the Cherry Festival, including the prospect of restoring the Cherry Festival queen and her court in 2015.
"We want to do some type of scholarship," Farquharson said. "And the float is still around at Gary Honald's place."
The court will also serve as a leadership experience this time around, she said, with the court named in the fall and acting as representatives to other events leading up to the Cherry Festival. The queen would be crowned during festival week.
In addition to the new membership and marketing coordinators who have come on board this year, Farquharson relies on the chamber's volunteer base, which she is also working to beef up.
"The merchant committee originally helped with the Charm Trail," she said. "Now we're looking at charging that committee sometime soon with hospitality training."
Among other things, that training will include information on how to answer questions about the community and even the tone of voice and mannerisms of good customer service.
"We're also always looking at new tactics to get the word out on The Dalles," Farquharson said.
The chamber is working with AAA to get the word out about The Dalles to motorists.
"What kind of ad can we do to help drivers into The Dalles?" she asked. "One thought is, we have the oldest book store in Oregon — and notice we didn't say 'history'."
She referenced a study in marketing that indicated the word "history" itself is no longer a big draw.
Farquharson made her "debut" as the future chamber director in The Dalles last year at the first Reconnect to the River event, held to celebrate the opening of the new dock and Lewis and Clark Festival Park.
In the year since that event, she says it has been a "crazy ride."
"As crazy as it has been and as many hours of sleep as I've lost, I know without a shadow of a doubt I'm right where I'm supposed to be."