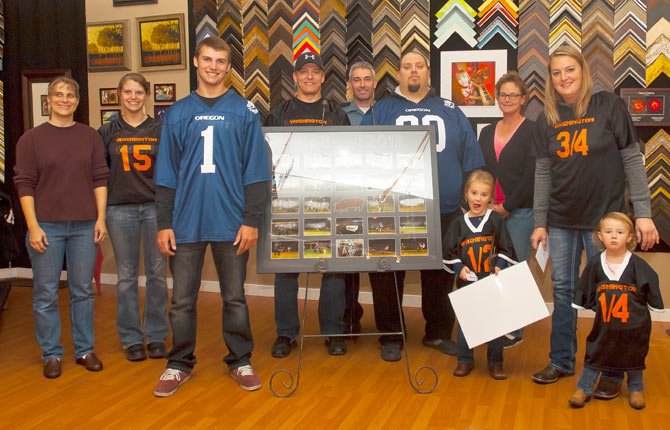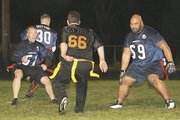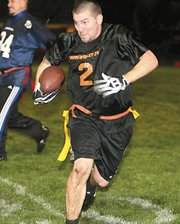 Even through monsoon rain conditions, hundreds of community members from across the Columbia River Gorge made their way to Sid White Field Saturday in a show of support for Donovan Doroski and Kadee Herrington in the 11th annual Pig Bowl.
Just a shade less than $30,000 was raised, until a last-second donation from an anonymous source made it possible for both recipients to receive a check for $15,000.
Also, a handful of other contributions from La Quinta Inns and Suites, the Life Flight Network and Brown Roofing were made to Doroski and Herrington, who were selected by a panel of board members from Washington and Oregon.
Brown Roofing's principal owner, Willard Felt, and his daughter Monica announced during the first quarter that they would donate a free roof for Herrington.
Susan Salazar, of La Quinta Inns and Suites, issued a free week of rooms for Doroski and his family while in the Seattle area for hospital visits, and discounted an additional five weeks, so they can stay near the treatment center.
Tim Gibbons, of the Life Flight Network, donated a gift basket and a five-year membership for use for both parties.

"There have been plenty of goosebump moments for us this year. God has come through and blessed us in more ways than we can imagine," said Oregon State Police Trooper and Pig Bowl founder, Michael Holloran. "I am so proud of The Dalles. There was not a recipient from this town, but they went above and beyond to bless these people from Hood River and Goldendale in their time of need."
There were several firsts on this night as well – in 11 years, this was the first time two recipients had been selected, the first for a Hood River resident, first time the starting score was higher than any previous final scores, and for the first time, there were three special donation announcements made during the game.
In addition, Mother Nature had her hand on matters with wind and rain washing out the second half of play.
Nothing was going to dampen the spirits on this wet night, however, as the turnout and contributions were inspiring to everyone involved.
"You have no idea how great it feels to do this for the community," said Deputy Melissa Wykes from the Klickitat County Sheriffs office. "We showed that we can pull together and make this work. We are just the facilitators."
Wykes said the decision process was not easy.
In all, in the past year leading up to Saturday, there were 10 applicants nominated through www.pigbowl.net and the facebook page.
"We are very, very blessed, so we decided to do two families, one from Oregon and one from Washington, hoping to get the support," Wykes added. "It turned out great. We did incredible."

In November 2011, Doroski, a Hood River Valley High School graduate, was diagnosed with Stage 4 Hodgkin's lymphoma.
He went into a brief remission, but relapsed in September of that year. After two 72-hour rounds of chemotherapy, he got an autologous stem cell transplant and spent 30 days at Providence Cancer Center.

In June 2013, a follow-up PET scan was done.
A few days later, his mom got the devastating news that the lymphoma was back near his lungs and abdomen.

Doroski began a targeted chemotherapy again right away, getting treatments at the infusion center at Providence Hood River Memorial Hospital, where his mom and older sister work.
It does not make him as sick as traditional chemo.
The plan now is to have a bone marrow transplant.
His sister, Coralie, is a half match for him, and she will be donating bone marrow.

Doroski be in Seattle for outpatient treatment for four months after spending a week in the hospital.
His housing will cost $2,085 a month, but it offers a free shuttle to the hospital, which he will have to visit daily.
His parents will be his caregivers since he will need 24-hour care, meaning they will need to take unpaid time off work.
Added to that, Doroski's father, Keith, recently learned that he would be laid off from his 11-year state job.
"I don't think negatively on any of this. I try my hardest to remain strong," Doroski said. "I got chemo yesterday (Monday) and I am walking around with a smile on my face. I still feel like I can beat this, especially with the amount of support that I have from my family and friends and my girlfriend rooting for me, giving me strength. They inspire me to not give up and hold my head up high."
There are reasons for everything, and not once did Doroski ever play the blame game – he felt this life hurdle was placed before him for a profound reason.
"In my eyes, I think God chooses the people he knows can beat cancer," Doroski said. "He gave it to me because I can handle it and that is the way I like to think. He put it in my hands because he knows I can deal with it."
Earlier this year, on April 28, Herrington lost her husband, Thomas, to a snowmobile accident.
In addition, Herrington, who lives on her family farm in Goldendale and is a preschool teacher, had unsuccessful back surgery in July.
She is uncertain, at this point, of the future of her back.
The prognosis is still up in the air, as she still deals with pain on a daily basis.
Given the high cost of bills and trying to hold down the household as a single mother of two daughters, Dilynn, 4, and Jordynn, 2, she still has a positive outlook on life.

With the help and well wishes from surrounding communities, she admitted that her faith in people is being restored day-by-day.

"From the people that nominated me to Melissa's work and to Michael's work, I am forever grateful," Herrington said. "I have an amazing support network in our community. If this had happened anywhere else, I don't believe that I would be as strong. Every day there is somebody that gets me motivated to keep going. I can live my life through them and make it better for all of us."
Herrington has a philosophical surge of love in her heart knowing that her daughters will be a part of a community that shows unrelenting support for one of its own.
What drives her even more, she said, is knowing that Thomas is looking down from the heavens above helping her through this journey.
"It totally drives me knowing that he is up above smiling down on us," Herrington said. "I totally believe he is in my path to help me out. My faith keeps me going. It keeps me strong and I know that I will see him again one day."
For more information on the Pig Bowl program or to nominate someone, log on to www.pigbowl.net.
Elements from an article previously written by Neita Cecil were used in this story.