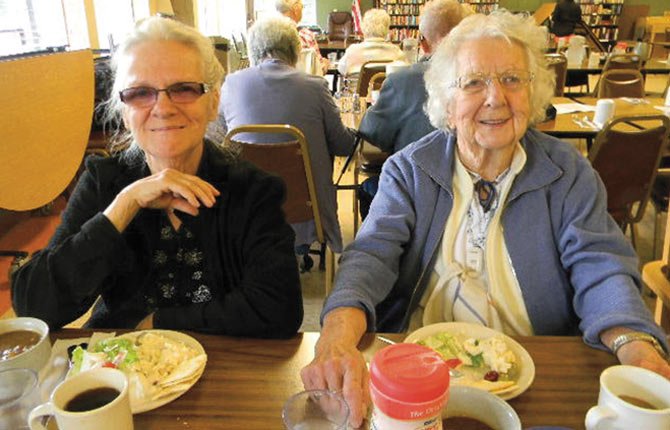 Rib dinner aids center, meals
This Friday, Oct. 4, Mid-Columbia Senior Center and Meals on Wheels host the third annual Babyback Rib Dinner, from 4:30 to 7:30 p.m. sponsored by The Springs at Mill Creek.
Entirely volunteer-run, the fundraising event features live music from local bluegrass band Hardshell Harmony, a silent auction and "the best ribs in the state," according to board member Ron Sutherland.
Caught in the midst of the lunch hour rush, Mid-Columbia Senior Center is a bustling place.
No one appears still as meals are delivered to tables and people sit and chat with their neighbors.
Volunteers mix with patrons as couples, friends, relatives and co-workers file into and out of the airy dining hall to the sound of clinking cutlery and dozens of conversations.
In addition to the usual crowded calendar of events this week, center and Meals on Wheels staff are also gearing up for their biggest joint fundraising event of the year (see related sidebar, at right).
Scott McKay, center director for more than six years and long-time advocate for senior community members, said the center is all about "fostering a reliable community" built on the foundations of its volunteer network and relationships with the broader community.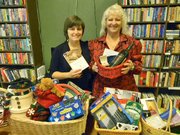 Relying on 60-plus volunteers to collectively contribute approximately 400 hours a month to center activities, it truly is a communal effort to keep the place running smoothly.
According to Ashley Lauterbach, assistant to the director of Meals on Wheels, providing both home-delivered and on-site meals for local residents 60 years and older is only made possible with the help of their 35 weekly volunteer drivers.
"They're not just our volunteers," she said, "they're our friends." All of the work that goes into preparing and delivering those meals is built upon "a lot of give and a lot of love" from the community. "It's a hard job to do, but an incredibly rewarding one."
The senior center and Meals on Wheels, McKay said, "work together to promote healthy aging" and rely on "a lot of trust and mutual respect" to successfully operate out of the shared space.
Both organizations, he said, are fueled by the work of many "good-hearted people working toward a common goal."
To McKay, the importance of the social opportunities the center provides to the health and wellbeing of its patrons and the rest of the community is clear.
"The reality is that we're all aging, and that these are very active, alive, excited adults... who take advantage of our programs and teach the rest of us how to age with dignity with a lot of good humor and good energy."
"I came into this as an enthusiastic 22-year-old," Lauterbach said, "but as you learn to do business [as a non-profit] in a smaller community, the politics involved… some of it is really difficult."
However, Lauterbach said that the struggle to keep things running during dry financial periods can also make for "more creative" solutions.
"Thursday night bingo and the fundraisers, for example, really help keep us afloat."

Similarly, the senior center also relies on predominantly non-governmental sources to stay operational.
In the center's recent September update for The Dalles City Council, it was reported that the non-profit has a budget of less than $100,000 with minimal government funding including only $5,000 from the city and $500 from the Area Agency on Aging.
However, attracting more than 350 members with its wide range of activities, coupled with the valuable services such as those provided by Meals on Wheels and the combined efforts of their volunteer and local business support networks, the center manages to stay open for business.
Even a cursory glance around the crowded cafeteria tables during lunch hour yields signs of the center's perpetual state of activity.
Robert MacMillan, a Meals on Wheels patron prior to his attendance of senior center activities, reports that he now also sings in the Young at Heart Seniors choir and takes yoga classes.
Just a few seats down, Robert and Shirley Wagenblast say they sponsored the building of the senior center years ago and now look forward to participating in the weekly bingo nights in addition to taking advantage of the on-site meals. Jim Holston, a Meals on Wheels volunteer since 1995, describes the center as "a fraternity, a brotherhood and a sisterhood" of people "who are all in the same boat."
When asked how he feels about the center and his longstanding volunteer work for Meals on Wheels, he smiles broadly. "In my 70's, I realized I was no longer just a volunteer. I need it and it needs me… All these folks are struggling with age, and so am I."
Annie Lane, administrative assistant at the senior center, said "you only start off as a volunteer, but then you end up falling in love with everybody and just keep coming."
This is, according to both senior center and Meals on Wheels staff, exactly why the upcoming rib dinner is so important to both organizations' wellbeing.
"It's the biggest individual fundraiser we put on… and a lot of us are going to be putting in 12-hour days to get ready," Lauterbach said. She and Annie are working as a team to make the needed preparations, arranging the gift baskets for the silent auction to be featured at Friday's dinner being just one of them.
"Denise (Meals on Wheels program director) always said that 'we're more than a meal,'" Lauterbach said, "and you know, she's absolutely right."
Offering everything from personal fitness and technology classes to providing space for Meals on Wheels, the center is obviously a community valued by many. McKay said simply, "With so many wonderful people… it's a fun place to be."