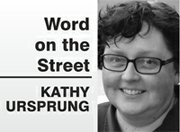 People who make no noise are dangerous.
— Jean de La Fontaine
Make some noise: Sounding her age, she said, "The noise parade was different in my day" — OK, I admit it, that was me talking the other day in our staff meeting.
Those who care to recall will remember a chaotic cacaphony of noise emitting from a long line of student cars packed to the gills with teens shouting at the top of their lungs and banging on anything they could get their hands on, including said car.
It was raucus and unruly and probably a few students got into more than a little mischief along the way.
Today's noise parades are a little more orderly, with students corralled on flatbed trucks or other forms of mass transit.
So maybe these more subdued teens need a little help from the businesspeople along the parade route.
Why not join in to help make the noise parade as noisy as possible? Haul out whatever noise implements you might have on hand — tambourines, bass drums, kettles, castanets, aluminum siding, what ever might make a thunderous noise — and help the students make this the noisiest noise parade ever.
It's all in the spirit of good, clean competition. Help make this the noisiest noise parade in recent memory and rile up the fans and players for Friday night's TDW homecoming game against Ridgeview, the new 4A school coached by former TDW coach Andy Codding.
Make some noise Friday at around 11 a.m., then go to the game at Sid White Field to cheer the home team on to a sweet victory.
Reconnect and sell: I have it on good authority (see story at right) that last week's vendor deadline for the Reconnect to the River Festival was really more of a guideline and that the chamber will welcome additional vendors this week, too.
"We just have so much space for vendors and I want to make this the best event possible," said Lisa Farquharson, CEO of The Dalles Area Chamber of Commerce.
If you're interested in displaying your wares at the festival, call the chamber at 541-296-2231 for details.
Pulse of the Future? The 18th annual Oregon Connections Telecommunications Conference will have a theme of "Broadband: The Pulse of the Future." The event is presented by Mid-Columbia Economic Development District Oct. 24 and 25 at the Hood River Inn.
Keynote speaker will be Amber Case, cyborg anthropologist and director of Esri R&D Center, Portland. Register online at www.oregonconnections.info.