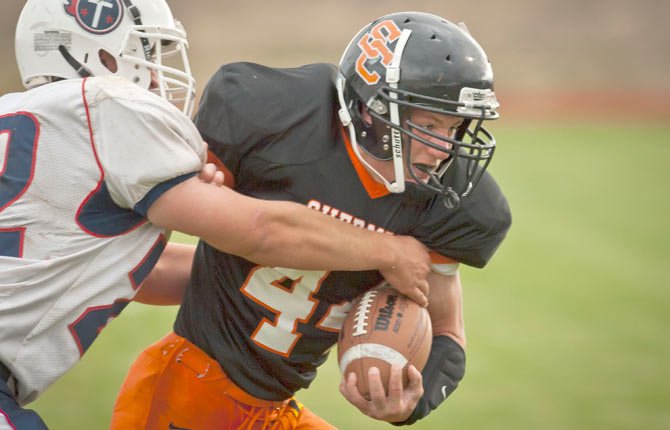 There is no better chance at redemption than Friday night for The Dalles Wahtonka football team.
TDW faces its old football coach Andy Codding and gets the chance to erase the sting of last week's shutout loss at home to Hermiston.
All week in practice, the squad has been focused and determined to do just that.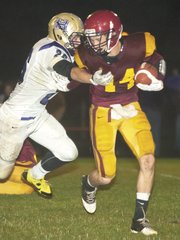 "I think the boys are excited to play their former coach," said TDW coach Steve Sugg. "They have been talking about it quite a bit and because of that, they should be pretty motivated to do well on Friday."
In facing Ridgeview, senior lineman Mike Pifer and the Eagle Indians get a refresher course on the fly sweep offense, and the good things it can do on the gridiron.
So far this season, the 4A Ravens have rushed 244 times for 1,795 yards and 15 touchdowns.
During their three-game winning streak, Ridgeview has rushed for an average of 409 yards and kicked in 39 points a clip.
Last week, Ridgeview (4-1 overall) pulled off a 35-33 upset win over 5A Bend.
"I don't think anything Ridgeview does is going to surprise the kids, other than the fact that they execute their offense really well," Sugg said. "It is tough offense to stop. We have to be prepared to play a smashmouth football game. I think our kids are up for the challenge though."
Leading the Ravens on offense is senior running back Boomer Fleming, who has 90 attempts for 688 yards and nine scores.
Tanner Stevens (47-447) and Cody Simpson (49-354) are two names who can gobble up some real estate as well.
In the past couple of weeks, TDW has made proper adjustments on defense, holding Summit and Hermiston to 24 points and 330 yards in the second half, so this unit has shown shutdown capabilities.
Sugg pointed to staying disciplined and making sure everyone is taking care of their gap responsibilities and doing their assignments to enjoy success.
"In this offense, the fly sweep, there is a lot of misdirection with some fakes to the trap or the belly or counter," Sugg said. "We have to stay at home. Our kids have to read their keys and play disciplined assignment football. If they do that, we should be OK."
In five games thus far, Ridgeview's defense has been stout, allowing just 78 points, as the season has gone on, and this group has allowed more and more points, including a season-high 33 last week.
Before last week's whitewash against Hermiston, TDW had been cruising with a three-game winning streak and they clocked in 40.3 points a contest in the process.
This group put up 260 yards of offense on Summit last week, but committed seven turnovers and went 4 for 16 on third down conversions.
Of course, a critical element is limiting those miscues that kill drives and momentum.
But gaining yards against a tough defense that runs a 3-5 formation with a soft cover-3 is another beast altogether.
"They are going to try to make us put some 10-11-12 play drives together," Sugg said. "They are pretty quick, not overly big, but pretty quick. Offensively, we've got our work cut out for us. We are going to have to be patient on offense, take what they give us and be able to take the big plays when they come open."
Kickoff is slated for 7 p.m. and radio station 1440 AM will broadcast the game live.
Huskies look to keep Big Sky roll
With Dufur and Condon-Wheeler sitting atop the Big Sky Conference standings, the Sherman Huskies are hoping to hold serve and remain in contention with a homecoming showdown at 7 p.m. Friday in Moro against former athlete Jailin Conboy and the Ione Cardinals.
So far this season, the Cardinals are winless and they have struggled on both sides of the football. Ione ranks 32nd offensively in the 43-team 1A class at 24.5 points a game, and defensively, this group in ranked 35th having given 212 points overall, including a season-high 60 in a 60-0 shutout loss to St. Paul.
Even though those numbers are lopsided, Sherman coach Todd Swan is not looking past this Cardinal team.
"Ione has some talented kids. They are great at the skill positions," Swan said. "They do a little bit of everything and we expect to see it all."
There is a little more interest in this game with all-league hoops player and versatile receiver Conboy on the other sideline.
Assuredly, the Huskies will welcome No. 15 the only way they know how.
"I think our kids are excited about the chance to play against a former teammate," Swan said of Conboy's return. "He is a great kid who can be a threat in the passing game. With that said, we understand Ione has several playmakers and we cannot give Jailin too much attention."
After giving up some big numbers in the past couple of weeks (168 points), Swan and defensive coordinator Kyle Blagg have used the practice week to shuffle some things around to try to get the defense back to its dominant ways.
Since starting the year with two consecutive wins and an impressive 15-point-per game split, teams have racked up 56 points a game against this unit, 44 last Saturday in a 44-14 loss at home versus Triad.
"We have changed some personnel in order to better utilize our talents," Swan said of some of the switches. "As a result, we are back to the basics. We will focus on assignment football."
In order for the defense to pick things up, Kevin Hart will be called upon to keep up his top work on the line, and both Swan and Blagg have to figure out a way to keep the linebackers in prime position to make plays.
"We have noticed an offensive strategy from other teams of running away from Blake," Swan said.
One calling card of the Husky game is the running attack with bruisers Blake and Brett Evans, speedy Maverick Winslow and senior quarterback Nick Coleman doing much of the heavy lifting.
That quartet got a boost from the return of Austin Kaseberg, who made his debut last week at end. He adds a big-play aspect to the offense when Swan decides to dial up the play-action pass.
"He (Kaseberg) showed that he can not only catch the ball, but he can dominate in the blocking game," Swan said of Kaseberg's contributions.
All told, this offensive group scores 37.2 points a game, good for 14th in the state.
When things are going smooth on offense, Sherman hits paydirt for 50.6 points a game, whereas when the offense sputters, they connect for 17 points a matchup (two losses).
"The biggest focus this week will be maintaining first-level blocks," Swan said. "Over the past few weeks, we have developed this mind that we must make contact and move to second and third blocks on a given play. We need to get back to securing first-level blocking. If we can do this, our offensive game should pick back up."
Action starts at 7 p.m. Friday in Moro.