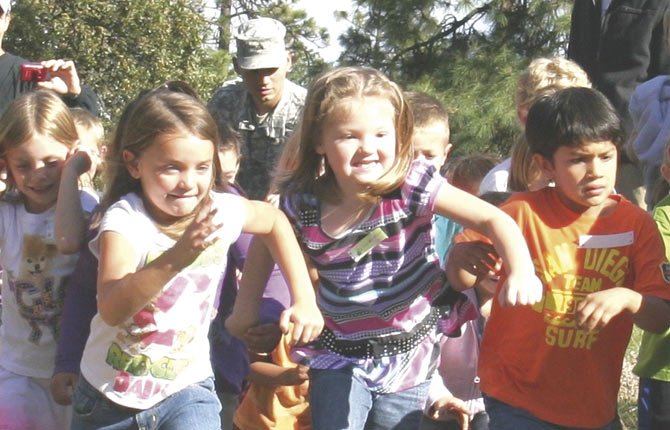 Early on Tuesday morning, it appeared as though bad weather would keep the children away from the 17th annual Jumpstart Cross Country Meet at Sorosis Park.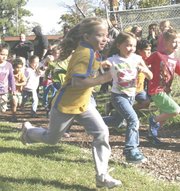 At noon, the rains were pelting down, but an hour and a half later, there was a patch of blue skies sneaking their way through, before the sun drenched the scene for the start of race activities.
In all, 211 runners, ranging from pre-kindergarten through fifth grades showed up solid times were put up.
"I have to tell you, I prayed for a three-hour rain stop blessing and we got more than that," said event coordinator Tom Conklin.
Of the 211 harriers, 92 were from Colonel Wright Elementary School, 91 hailed from Dry Hollow, 16 from Chenowith and five combined from St. Mary's Academy and home school.
While many of the racers were returning for another dance in the park, Garth Miller's middle school classes set the pace to lead the charge.
Even seven participants in the pre-kindergarten age range tore through the chips with eager anticipation to run their best race, according to Conklin.

Ribbons were awarded to the top-10 placers in each age division, boys and girls.

Before the runners could break free for a starting thrust, former state champion coach, Steve Thompson, fired off the opening musket shot to get the trains moving.
First off, were the 96 kindergarten and first graders, running half a mile.
In the second and third grade race, 70 youngsters hit the turf with the second grade group hustling for a half a mile, while the older third grade class, churned out three-quarters of a mile in distance.
The final race of the afternoon had 50 fourth and fifth grade competitors made their way through the tough Sorosis course, working 1.1 miles.
Leading the way in the fifth grade division was Colonel Wright Elementary School fifth grader, Ryan Powell, who covered the distance in seven minutes and eight seconds.
"There are always a number of kids that are first timers, the anticipation can be a tough thing for kids, waiting for their race, trying to keep going when they are fatigued," Conklin said.
In the month and change leading up to Tuesday's run, Conklin and his fellow instructors, Dry Hollow physical education specialist, J.R. Runyon, and Chenowith Elementary P.E. instructor, Samantha Tenneson, provided the majority of these athletes with directions, tips and tricks to help them compete in these long-distance runs.
Aside from the event itself, Conklin's aim is to teach all aspects of cross country and overall health and an active lifestyle, so children develop a love of the sport early on.

Athletes do not start competing in cross country runs until middle school, so this is a teaser for the youngsters as they try to find their niche in the upcoming years.

"If we can get the kids to that race or the track meets and to compete, it is easy to see the satisfaction on their face," Conklin added. "You don't have to ask them, they are beaming with thrill."

Since its inception in 1996 at St. Petersburg School, Conklin has seen the event multiply.
He remains in complete awe to this day.
"It seems to keep coming back with interest," Conklin added.