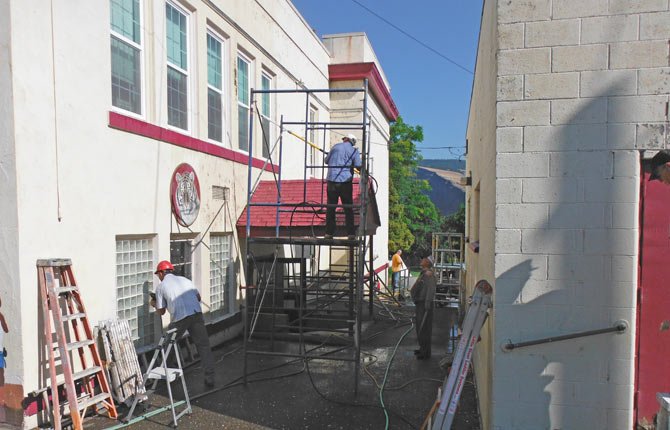 Mosier — More than 200 volunteers turned out for three weekends' worth of service projects at Mosier Community School in August.
The project was part of the Church of Jesus Christ of Latter-day Saints (LDS) annual Day of Service tradition, which encourages congregations around the world to find a community entity in need of a service project, but it also drew school staff and members of the community, including some who walked in right off the street to help.
Chinook Plumbing also donated its expertise at a steeply reduced rate.
Volunteers painted hallways and classrooms, scrubbed down the kitchen, updated the plumbing, cleared brush away from around the school, repaired a roof, cleaned classrooms, weeded the grounds and did a variety of other projects.
The bulk of the work was done Aug. 17, but projects requiring specialized expertise were done Aug. 10 and other projects were wrapped up and the furniture moved back into place Aug. 24.
"Service helps us to forget ourselves and helps us feel love for others," said Lynn Bischoff, stake president of the LDS church in the Mid-Columbia area. "It's a way to show not only our love for others, but also our love for Jesus Christ. We hope our members render service throughout the year, but it's neat to get many people together and tackle a large project. It's amazing how much can be accomplished in a very short time when many people join together and work in unison. We are all God's children and we all benefit when helping one another."
Past Day of Service projects have included sprucing up the school, community garden and fire department of Wishram, building new a new set of trails around the Goldendale Observatory and pouring cement pads for the disc golf course in The Dalles.