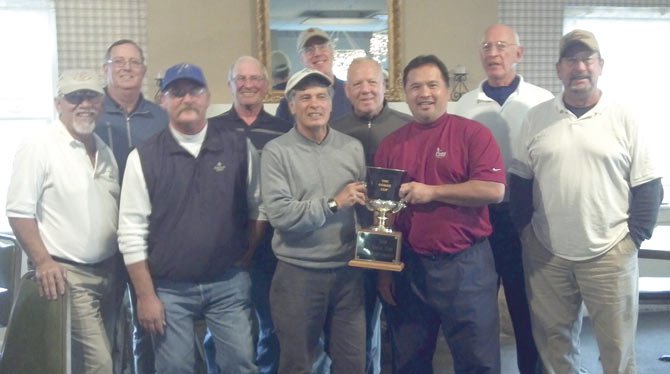 When putting together this esteemed group of golfers, The Dalles Country Club had its eyes on rising to the top.
Turns out, those initial prognostications were right on cue, as the 12-member team hit their drives straight and kept the scores low in grabbing top honors over the Hood River team after two days of action at the two-day Gorge Cup.
Each of these teams was comprised of members from TDCC and Indian Creek Golf Club for play on each team's home course on Sept. 28 and 29.
With a point for each match and a total of 36 points available, The Dalles Country Club team captured 21 points to Indian Creek's 15.

The match featured 12 'team matches' (two-man best ball also called four-ball) and 24 'individual matches' each consisting of nine holes.

All 12 members of the team scored points by either winning or tying one or more of their matches.
The 12 members from The Dalles were Dale Griffiths, Ray Shepherd, Pat Martin, Fred Stampflee, Pete Kelly, Tom Krueger, Dan Telles, Ron Krol, Dave Link, Bob Fimple, Bill Sallee and Jim Ferrer.
"All participants enjoyed the match-play format and vowed to repeat this contest next year," said Griffiths.

A Gorge Cup trophy is set to be engraved and the hardware will remain on display at The Dalles Country Club pro shop until the next contest.
For more information on the club, call Bob Sproule at 541-296-5252.