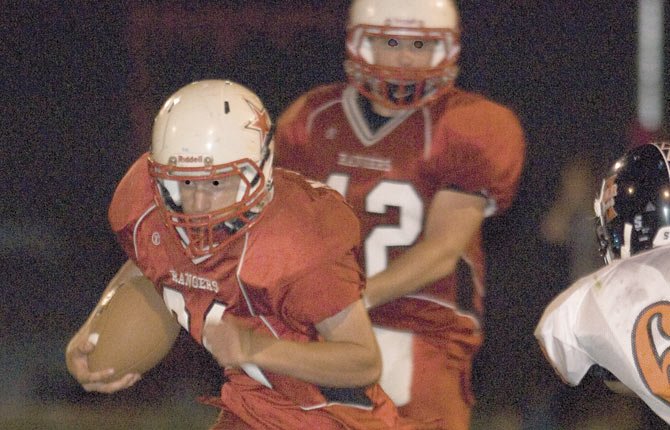 The scoreboard operator may be busy tonight, as Dufur and St. Paul form two of the state's highest scoring offenses.
On one end, the No. 5 Rangers have one of the scariest offenses around, with 61.2 points a contest being racked up through five games, all wins.
Led by quarterback Cole Parke, backs Trever Tibbets, Nick Little and Bailey Keever, Dufur has an average margin of victory set at 38.8 points a clip.
It has been an impressive start for Jack Henderson's group, as it prepares to take St. Paul, which has the state's second-worst scoring defense at 48.8 points a game.
"We will continue to do what we do on offense," Henderson said. "Our ability to run the ball has been huge for our success this season. Multiple kids have become a factor on offense for us."
Last week, in a 60-16 romp over Echo, Little led all running backs with 169 yards and two touchdowns, and Parke went for eight carries for 115 and his three trips to the end zone.
Dufur ran 29 plays and amassed 457 yards, 426 yards rushing, and through the air, Parke completed 2 of 3 passes for 31 yards. Nick Little had a 23-yard grab and Tibbets made one catch go for eight yards.
Before last week's 60-0 win over Ione, St. Paul's defense gave up 76 points to Lowell and 82 versus Imbler, both losses.
Dufur has scored fewer than 56 points once so far.
"We need to execute and take care of the ball in all three phases of the game," Henderson said. "The winner of this game will take care of the ball – turnovers are magnified against the top teams."
The Buckaroos (2-3 overall), for all of their faults on defense, they have a great ability to put points on the scoreboard with the eighth-best mark in the 1A class.
Names for the Rangers to keep an eye on include, Cody Southerland, Austin McMillen, Tyler Smith, receiver Keenan Wood and multi-threat quarterback, Cody Faber.
"St. Paul is a multi-faceted offense," Henderson said. "They can pound it and spread you with success. They are tough to prepare for as a result. Their best running back is Cody Southerland. He runs the ball well and is a threat as a receiver as well. Cody Faber is their QB, and he has a great touch on the ball and is an effective leader on the field."


It is highly unlikely, that formidable group has faced a defensive front led by Austin Olson, Zach Christiansen and company — a stingy Ranger squad that has held their last three opponents, Perrydale, Arlington and Echo to 13.3 points a game.
It appears that as the season has gone on, this defense has proven to be a tougher task for opposing offenses to solve.
The 44 points given up to Cove on Aug. 31 are a distant memory. For that matter, so is the memory of last season's 56-5 loss in St. Paul.
"For us, everyone has improved a ton since last season, we continue to make progress weekly as well," Henderson said. "We've been working on covering St. Paul's many looks and how to correctly align against them."
Regardless of the outcome, Henderson wants to see how his team will fare against one of the state's perennial powerhouses.
Year in and year out, St. Paul boasts a respectable program that cannot be overlooked by any stretch.
Opening kickoff is slated for 7 p.m.