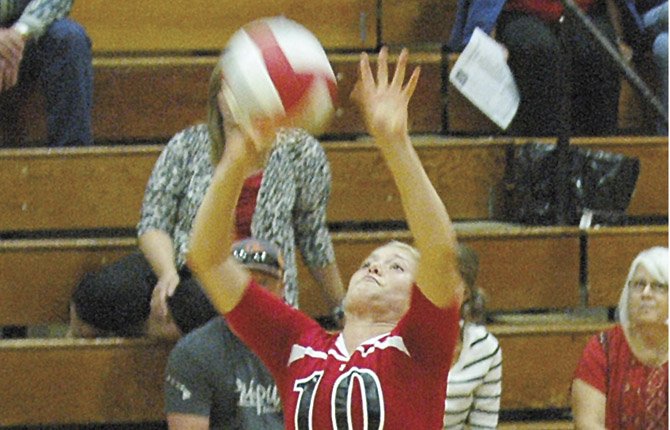 With sole possession of first place in the Big Sky West Division up for grabs, the Dufur rangers used a long week of practice to prepare for a tough South Wasco County volleyball team and it paid off in spades.
Teneille McDonald had 12 aces and 13 digs, and Taylor Darden added 15 kills, as the Lady rangers posted scores of 25-21, 25-10 and 25-9 to pull off a three-game sweep over the Redsides Friday on homecoming night in Dufur.
"Maupin is a really good team," said Montana Ferres, who had three aces and five digs. "They make it difficult for us to play off-balls and we really worked on that this week.
We also worked on mixing ourselves up too, not always just slamming it down, but being smart with the ball and getting a point over. We worked very well as a team to do it."
The closest set of the night occurred in the opener, where the Redsides and Rangers switched leads back-and-forth. SWC had an early edge and still had one midway through, but Dufur settled in and got its serves down to pull away.
Serves and serve-receive were an issue SWC had to deal with all night long. Dufur had 24 aces and connected on 92 percent from the service line.
"It is a matter of being more consistent," said SWC coach Ron Townsend. "In that first game, we were right there. In fact, we were ahead and had a chance to win. Then we hit one of our lulls where we did not serve-receive like we are capable of and we made a couple of mistakes."
McDonald added five kills to her stat line, Alexa Macias added 22 assists and three digs, and Kathryn Johnson was good for six kills, three aces and three digs.
"I thought Teneille served tough tonight and made some great back row plays," said Dufur coach Kelly Darden. "Kathryn continues to serve receive well for us. Taylor made some great plays at the net too. There was some great plays at the net tonight for Montana and Kyla. Alexa continues to be steady for us and does a great job distributing the ball. I think we are playing well as a team right now and we are continuing to improve."
On one end of the spectrum, Townsend will take his team back to the practice facilities in Maupin and get some things ironed out. His biggest hope, however, is that his team learns what it needs to improve on in order to compete with some of the top teams in the state.
"At this point, we are not there yet, but it is a work in progress for them," Townsend said. "I have confidence in them, but part of the thing is they need to have that confidence in themselves."
For the Rangers, this was their eighth sweep of the year and third consecutive league win.
Ferres said it is all about continuing to stay focused on the task at hand.
"We learn from our mistakes and we get better every day," Ferres said. "Every time we touch the ball and every day we go to the gym, we do as much as we can do and go all out no matter what. Have the mindset every game and not think down anyone, just play like we know we can play Dufur Ranger volleyball."
SWC played Saturday against Central Christian, and then they travel to Boardman to play in a three-way against Riverside and Irrigon at 4:30 p.m.
Dufur next hosts Ione at 5 p.m. Thursday.