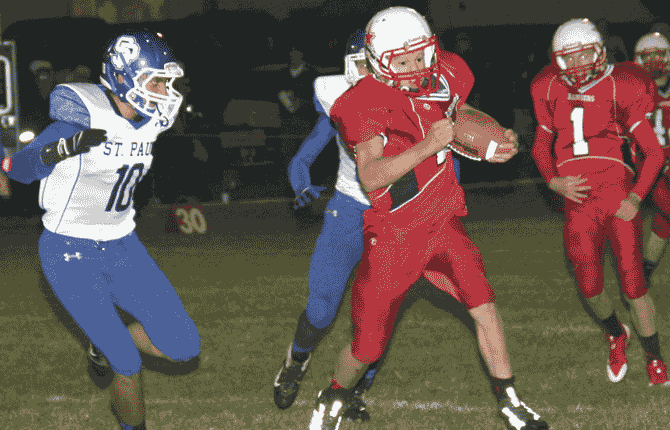 After a sluggish start to Friday's 1A football matchup, the Dufur Rangers flipped the switch and motored home to another impressive finish.
At one point, St. Paul led 22-16, but the Rangers then scored on five consecutive first-half possessions to build a 52-22 lead enroute to a 64-30 victory in non-league gridiron play Friday on homecoming night in Dufur.
"We were tired of playing horribly. We knew we had to get our butts in gear and play harder every play if we were going to come back," said Jake Little of the slow start. "We just got more excited. We wanted to fly around and hit people and score points. When we finally got our heads in the game, we got back to fundamental football, doing our assignments and playing better."
Sparking the turnaround was the stingy Ranger defense.
In all, Dufur forced St. Paul into four turnovers and six punts, but from the one minute and 36 second mark of the first quarter on, the Buckaroos managed just 134 yards of offense, 73 coming on a nine-play scoring drive with 3:57 remaining in the fourth quarter when the game was well in hand.
St. Paul went 4 for 12 on third downs, and completed 3 of 13 passes for 36 yards with two interceptions.
Dufur's defense allows 23.6 points a contest, and it held St. Paul to its lowest output of the season.
"We have been working on defense all year. That is our main focus," said Cole Parke. "We know we can put points on the board with our offense, but our defense is the key to success. We need to work on that every week. We can't afford to let down at all."
With the Buckaroos up 22-16, the Rangers picked up their first tally in the rally at the 11:10 mark of the second frame, as all-state quarterback Cole Parke tossed a 22-yard touchdown pass to Trever Tibbets to even the count at 22-apiece.
Following a Buckaroo punt and a 43-yard return by Parke, Dufur had possession on the 15-yard line.
After a holding penalty docked them 10 yards, Parke and Tibbets connected again, this time from 25-yards out to make the score 30-22 with 9:10 left in the second frame.
St. Paul fumbled on its next time with the ball and Dufur immediately cashed in that miscue with a 21-yard strike on a halfback pass from Nick Little to Bailey Keever to cap a six-play 51-yard drive, and run the count up to 38-22.
Tibbets then added a six-yard run and Parke scampered home from 38 yards away to swell the Ranger cushion up to 52-22 at the break.
In the second half, Dufur scored once each in the third and fourth quarters on a 14-yard run by Parke and a five-yard jaunt by Tibbets to cap the barrage.
All told, Dufur rushed the ball 40 times for 319 yards, as both Parke and Tibbets eclipsed the century mark.
"Austin Olson played the game of his life. Cole threw the ball very well. Nick Little is a gamer and Trever Tibbets ran the ball hard," said Dufur coach Jack Henderson. "That is a testament to our offensive line up front with Austin (Olson), Jon (Buntin) and Brent Sumner knocking guys off the ball and doing a great job. I am amazingly proud of these kids."
The Ranger senior quarterback toted the rock 10 times for 138 yards and a pair of scores.
From the pocket, Parke completed 7 of 15 passes for 128 yards and three tallies.
Tibbets rushed 16 times for 106 yards and two paydirt trips, and he tacked on five catches for 62 yards and two touchdowns.

Jake Little and Keever had a scoring catch each for a combined 47 yards, and Nick Little notched five carries for 50 yards and a 13-yard scoring trip.
"There is definitely room for improvement," Jake Little said of the offensive execution. "We try to work on our game as much as we can in practice because we are not satisfied from one week to the next."
With this 64-point effort, the Rangers padded their offensive totals to 370 points, good for No. 2 in the state behind Lowell (378), who shellacked Crow 80-30 Friday night.
Definitely, an impressive start to Dufur's newly dubbed greatest show on turf.
"I don't think we have reached our full potential on offense just yet," said Henderson. "Obviously we have a lot of skill kids who can do some good things, but we've got to continue to work hard and continue to get better. I think this group has the ability to make some noise later in the season when it matters."
So much is working in Dufur's favor this year with the offense, defense and special teams clicking.
Although his team is undefeated, ranked in the top-5 and ranks amongst the toughest to stop on offense, Parke has a clear and stern message for his mates in regard to next week's approach.
"The way we look at it is we are 0-6, so we don't look at it like we are winning at all," Parke said. "We take it game-to-game basically. We can't be satisfied. It comes to doing great at practice and wanting to improve."
Dufur (6-0 overall, 2-0 league) hosts winless Ione (0-5, 0-2) at 7 p.m. Thursday.
This is a change from the usual Friday games due to a statewide teacher in-service day.