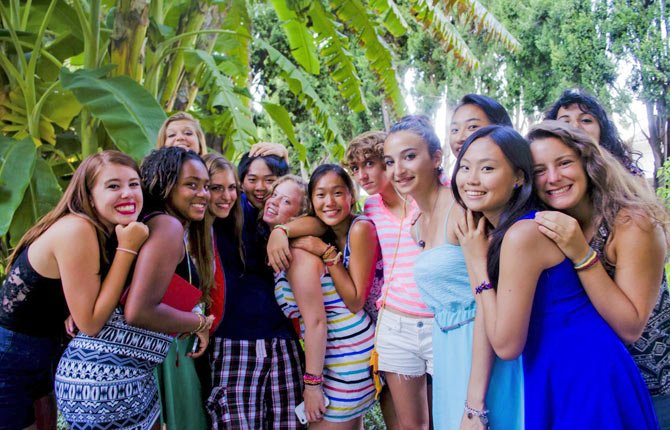 Anna Miller, junior at The Dalles Wahtonka High School, spent the month of July in southern Spain this year with over 60 other students from all over the world.
An AP student and tennis player, Miller said she applied for the summer program because of her long-standing interest in foreign languages.
Miller said she wanted the experience of studying abroad, but didn't want it to interfere with her packed school schedule. "The summer program was perfect."
The program she applied to was AFS, or the American Field Service, a nonprofit organization that promotes "intercultural learning" and offers international exchange programs in more than 40 different countries. About a third of the attending students were from the U.S., Miller said, while another third were from Italy and the rest hailed from countries such as Turkey and Egypt.
"The diversity was great… you really got to experience a wide range of different cultures all in one place."
Hosted by a local university in the coastal city of Málaga, Miller said the setting was "absolutely gorgeous" and that she attended four-hour daily language sessions and spent a lot of time at the beach playing volleyball and eating ice cream with other program participants. The weekends, on the other hand, were devoted to travel throughout the region and allowed students to explore locations such as Seville, Córdoba and Granada.
The longest time she'd ever spent away from home, Miller said homesickness hit her really hard at the end of her first night in Spain, but as the week wore on she began to relish the routine she developed with her new friends. It was the people, she said, who really "made the experience" for her.
"We'd see each other in the morning, head to the beach together every weekday… and swim out as far as we could. It was great getting used to seeing them everyday."
On the Spanish culture, she said, "it was nice how relaxed everyone was." After spending a lot of time with her Italian classmates, she said she got used to the constant show of physical affection between friends, such as seemingly "random" hugs and kisses on the cheek. "Everyone just stays a lot closer," she said. "It took some getting used to at first… but now I kind of miss it."
The program's emphasis on community building and the breaking down of cultural boundaries was what really made it special, Miller said. Despite the program lasting for only a few short weeks, she said she forged very close bonds with her classmates.
"I made some amazing friends," she said. "Saying goodbye was by far the hardest part… it was like the break up of a big family; everyone cried."
Miller strongly encourages other students to try the study abroad experience for themselves. The thing about travel, she said, "is that it really dispels a lot of the preconceived notions you have about other people… and I think that's something really valuable."
If she ever returns to Spain, Miller said she would like to explore the north and see Barcelona. "I hear the chocolate is amazing." She also intends to return to Europe one day to visit the Italian friends she made through the program.
This year, Miller plans to be an active member of The Dalles Wahtonka tennis team and study Italian online in her spare time.