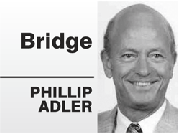 That well-known wit, A.N. Other, said, "The young man who stands on his own two feet has probably failed his driving test."
A bridge player of whatever age who failed to make a contract perhaps used only one line when two were available. In this example, South is in four hearts. West leads the spade queen. The defenders keep plugging away at that suit. After declarer ruffs the third round and draws trumps in three rounds, how should he continue?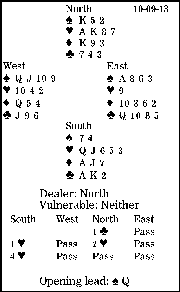 North, even though his diamonds are stronger than his clubs, was right to bid one club. Open one diamond with three cards in the suit only with exactly 4-4-3-2 distribution.
South will lose two spades and one club, and might also concede a diamond. He has only nine top tricks: five hearts, two diamonds and two clubs. So, at first glance, it looks as though declarer needs the diamond finesse to win. And many players would drive down that road, failing with this layout.
A better chauffeur first plays three rounds of clubs, giving the opponents the lead. If West takes the club trick, he is endplayed, forced either to lead a diamond into South's tenace or to concede a ruff-and-sluff. So let's assume East overtakes West's jack with his queen and shifts to a diamond. Declarer plays low. Here, West must put up his queen, so the contract is home. But if West could produce the 10, South still has the finesse of his jack. He is home when East has either diamond honor.