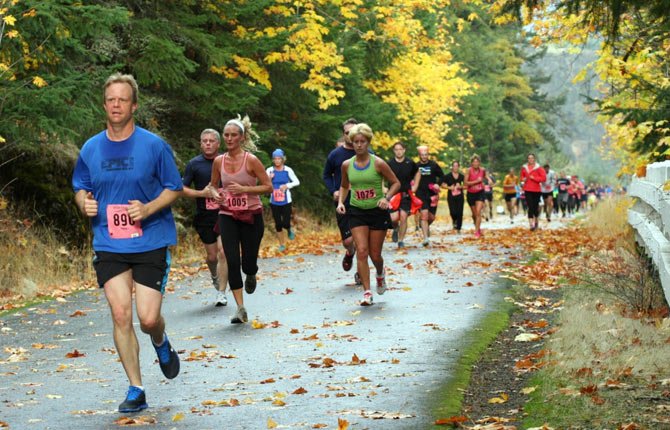 Hood River — Now entering its fifth running, the Columbia Gorge Marathon and Half Marathon takes place Oct. 27.
More than 95 percent of the participants are from outside the Gorge region, and the race had 1,100 people hailing from 36 states and five countries in 2012.
The continuing growth has race organizer and owner Chad Sperry excited.
"The community is great at supporting this event," he said. "The marathon and half marathon are a major event for our area. No other current sporting event draws this number of participants that stay, eat out and spend money, especially in an off-season time for the area."
The marathon start time is 9 a.m. with the Half Marathon start time slated for 9:30 a.m.
The race start and finish are located in Hood River at the Port Marina Park.
It starts out flat through Hood River, then a stiff climb up to the old highway trail, with continued gradual climbing to the half marathon turn around just past the Twin Tunnels.
As the full marathon runners continue, they head downhill to Mosier, and then climb up to the Rowena Crest turnaround.
The first runner from each state to register receives a free Columbia Gorge Marathon long sleeved tech shirt.
So far, more than 40 states are represented.
Every participant receives a custom beanie and a commemorative finisher's ceramic medal handmade by artist Mike Scrivens.
The top three men and women for both the marathon and half marathon will receive a beautiful handmade bowl.
Local high school sports teams volunteer for the aid stations and other race event tasks.
"We grant funds directly to their related sports program at the high schools for their community service in the marathon event," Sperry added. "This acts as a pretty good fundraiser for those programs."
Harriers and their dogs have their specialty race and there will be a special random raffle for Dog Leg participants.
This run takes place as the last wave in the half marathon.
At 9 a.m. on Saturday, Oct. 26, Gorge Spine and Sports Medicine Physical Therapy and Providence Hood River Memorial Hospital will host the Columbia Gorge Kids Marathon.
At 4 p.m., that Saturday, kids from kindergarten through fifth grades will complete a 1.2-mile fun run at the Columbia Gorge Marathon event area.
This is free of charge and young participants can sign up on the day of the event from 2:30-4 p.m.
For more information or to sign up, visit columbiagorgemarathon.com.