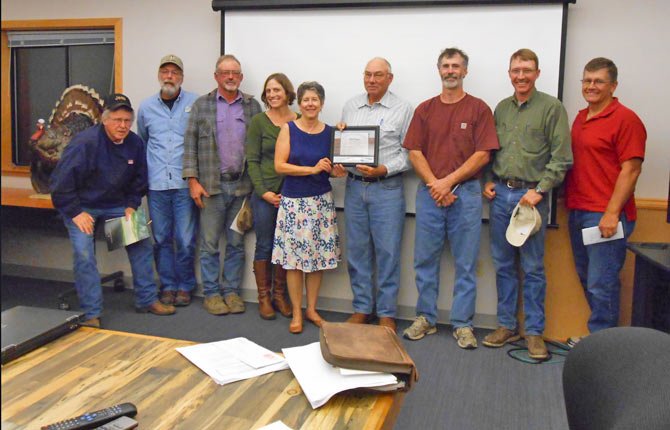 The Fifteenmile Watershed council, a voluntary program in the Fifteenmile Creek watershed, was recognized Sept. 17 by the National Oceanic and Atmospheric Administration for work to improve fish habitat.
In response to the 2009 low flow-high temperature event that resulted in what was described as a "significant" fish kill in Fifteenmile Creek, irrigators, in collaboration with the Fifteenmile Watershed Council, The Freshwater Trust and other state agencies, developed a contingency plan to prevent future fish kills and reduce irrigator liability under the Endangered Species Act, said Adrian McCarthy, communication director for the Freshwater Trust. The cooperative plan is known as the Fifteenmile Action Plan to Stabilize Temperature (FAST).
The plan uses a prediction model to inform Fifteenmile irrigators of forecasted lethal stream temperatures along Fifteenmile Creek. When lethal temperatures are forecast, the Fifteenmile Watershed Council issues an alert, notifying irrigators via an auto-call system. Once notified, irrigators can choose to voluntarily curtail the rate of their irrigation diversions to help avoid or lessen the intensity of the predicted high stream temperatures.
So far this season, the watershed council has issued one alert that lasted five days from June 29 to July 3. Six irrigators (mostly senior diverters) reported curtailing diversions for a total of approximately 3 cubic feet per second. While ODFW staff observed lethal stream temperatures in Fifteenmile Creek during this time, they did not observe fish mortalities due to high stream temperature.
It is hard to draw definitive conclusions from this alert biologically, but from a liability standpoint, curtailing diversions in response to predicted lethal stream temperatures is pretty persuasive, McCarthy wrote.
The 2013 irrigation season is a trial run for the FAST. The watershed will use this season to refine the prediction model and seek out funding to increase incentive for irrigator participation.

In addition to supporting a robust agricultural community, the Fifteenmile watershed provides key habitat for many aquatic species including threatened summer steelhead, Coho, Chinook, Pacific lamprey and other native fish. During mid‐late summer months, irrigation withdrawals exacerbate naturally low base flows, reducing available habitat and hindering mobility for juvenile and adult fish. Decreased water levels also raise water temperature and diminish dissolved oxygen levels, increasing aquatic species' susceptibility to disease and predation. Increasing late summer flows helps keep critical habitat wet and increase area available for rearing and migrating fish.
In addition, more stream flow helps decrease stream temperatures and aids in fish passage throughout the Creek. The Freshwater Trust has worked with Fifteenmile irrigators for over 15 years to restore instream flow to Fifteenmile Creek during the late summer months by compensating landowners to transfer or lease their water instream. Participation in The Freshwater Trust's programs has steadily increased.