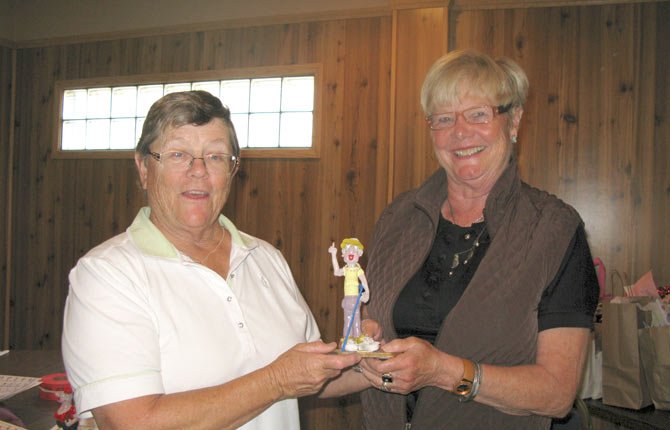 While facing a stout group of 16 participants, Laura Hess and Dixie Schanno had all facets of their game working for them at this weekend's The Dalles Country Club Women's Wind Down Golf Tournament.
The weather was warm and crisp for a championship run, as Hess carded a low gross tally of 171 to grab the low gross marker and claim the 2014 Ladies Club Championship.
"It always feels special to be the Women's Club Champion at TDCC," Hess said. "I have never taken being Club Champion for granted."
For her efforts, Schanno was just as good in her try on the low net side, as she notched a 147 to score the low net title.
Marty Wray shot her way to a 203 for first place in the 'A' flight low gross division, and Bev Tuttle was good enough for a 160 to take top recognition on the low net side of the bracket.
With a final score of 159, Karen Springer was much better than the 'B' flight's low gross competition, and Stephanie Adams did not blink an eye against a stout field with her low net mark of 160.
Hess and her husband Rich have been members at TDCC since 1979 and have won their share of events.
Last month, the Hess' won the Braves and Princesses tournament at TDCC for the fourth time.

In June, Laura Hess was part of the winning team at the annual Sasquatch Fours Tournament.
Playing on the course involves much more to Hess than birdies and pars and a low scorecard, however.
"Mostly, it is the people that keep us coming back," Hess said. "I just keep having fun with my friends."
Aside from the usual competition on the links, there were additional awards handed out for closest to the water, longest putt and closest to the line.
Schanno, Adams, Beverly McKinney and Martha Usatine were good enough to have their shots inch closest to the drink on Hole No. 9 without hitting the drink.
Anne Bialous and Marilyn Urness were the two golfers who sank the longest putts on Hole No. 2.
The duo of Bonnie Edwards and Karen Springer had shots gain enough steam closest to the line on Hole 4.
For more information, call 541-296-5252 or email tdccgolf@hotmail.com.