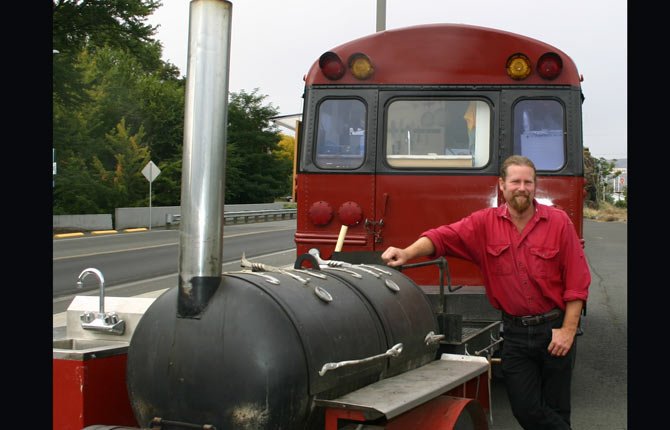 A brick red school bus with a cast iron grill in tow is how to identify the new Skyline Grill, which has set up shop on West Second Street in the lot opposite The Dalles Area Chamber of Commerce.
Owner Jesse Brewer offers natural organic and locally sourced food, including grass-fed beef and free-range chicken. With dishes such as the Smokey Blue Burger, the smoked chicken slaw wrap, the smoked sirloin steak wrap and the smoked salmon quesadilla, it's pretty clear the emphasis is on smoke, thus the grill in tow.
Brewer launched his new business about three weeks ago, following engagements at the Dufur Threshing Bee and What the Festival.
"I'd been working as a private chef for a couple of years," Brewer said, plus catering some events.
Brewer grew up in Dufur, driving trucks for 20 years for Azure Farms, which his mother started.
"My wife is a stay-at-home mom and I started doing a lot of the cooking 10 or 15 years ago and learned that I like it," Brewer said.
He started smoking turkeys for the family and barbecuing, making his own sauce.
"When the opportunity opened, I jumped," he said. "It's a lot better than messing with logs and weigh station scales. I get a chance to meet local people and serve them healthy, good food."
The opportunity came when he ran across the school bus after having built the barbecue for himself a couple of years before. After refurbishing the bus, getting his paperwork in place and securing a location, Brewer was ready to roll.
He considers the Smokey Blue Burger his specialty, featuring caramelized onions and blue or cheddar cheese, plus fresh slaw.
Smoked brisket is another popular item, when it's in stock. In addition to the menu mainstays, he offers specials as the ingredients become available. He recently served chanterelle burgers when those special mushrooms became available.
"As I get better at knowing what people want and consider the market, I may be able to do more," Brewer said.
He recently worked out an agreement with local baker Choose Sprouted Life Bakery to provide his hamburger buns, made of sprouted wheat.
"They're all-organic, but not so heavy and filling," he said.
Even though the rain Tuesday offered a hint of winter weather to come, he just has to add sliding windows to shelter the walk-up window.
"I do plan on being open through the winter," he said.
In addition to his grill work, Brewer will also be taking custom orders for turkeys through the holidays.
For more information about the Skyline Grill, call Brewer at 541-993-9237 or go online to www.skylinegrill.us.