I want to put a ding in the universe.
—Steve Jobs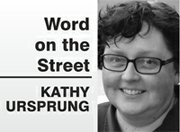 Making their mark: Some local homeowners are hoping to put their own ding in the universe.
John E. Will, along with Kevin and Julie Ryan, have both filed applications seeking permission to local home-based businesses at their The Dalles residences.
The Ryans have applied to operate a four-bedroom bed and breakfast hospitality business in their home at 508 W. 12th St.
Will wants to operate a home business for cutting plasma artwork in his accessory garage at 408 E. 11th St.
The applications are available for review at The Dalles Planning and Community Development Office. Comments are due Oct. 18.
Who's in charge? Mid-Columbia Economic Development District elected new officers at its annual meeting in September. Mike Smith of Sherman County was elected chair, Jan Brending, who represents the cities of Klickitat County, was elected vice-chair and private business person Ken Bailey was elected secretary-treasurer.
Organization leaders thanked Don Stevens for his service as chair in 2012-13, along with Smith, who was vice chair and Brending, who was secretary-treasurer.
The board also reappointed private sector members Bailey, Joe Abbas, Barbara Briggs, Eric Proffitt, Nancy White, Mary Kramer and Gabriel Muro.
At the meeting, the board also considered applications for two private sector positions on the MCEDD Loan Administration Board, reappointing Agi Bofferding and Scott Clements.
The loan board reviews loan proposals and makes decisions related to loan applications, loan portfolio client requests and loan procedures and policies for MCEDD's revolving loan funds.
MCEDD also recognized new appointments from governing entities: Bill Schmitt, Washington Ports; and Jim Kacena, Washington Chambers.
Silver hosts: The Dalles dynamo Joan Silver will be the guest host at the Oct. 10 Chamber Governmental Affairs Committee meeting. Topics will include the outcomes of community activities, plus government issues and concerns.
The committee meets Thursdays at 7 a.m. at The Barbecue Restaurant.
A basket case: The Chamber is seeking items to feature in baskets the organization prepares for conferences, conventions, fundraissers and raffles. The next event will be the state chamber conference with 300-plus attendees from Washington and Oregon. Items are being sought to help tell the story of The Dalles including agriculture, history, shopping, dining, attractions, sports and entertainment.