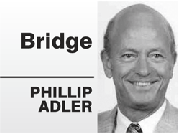 A.N. Other's latest is: "A glutton's greedy sense of taste shows little sense but lots of waist."
At the bridge table (unless you are playing in a pair event, where overtricks can be valuable), a greedy player who risks his contract trying for an overtrick shows little sense and lots of waste.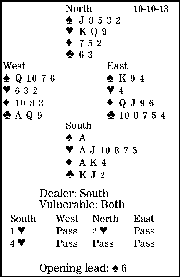 In today's deal, how should South plan the play in four hearts after West leads a low spade?
Note North's raise to two hearts. Yes, he has five spades, but with such a weak hand, two hearts is correct. If North bid one spade and South were to rebid two clubs or two diamonds, North would rebid two hearts, showing only a doubleton heart. South would underestimate the fit.
South might think he has only three possible losers, but he has four: one diamond and three clubs. He also has only nine winners: one spade, six hearts and two diamonds.
The "obvious" line is to lead a trump to dummy at trick two, then to play a club to the jack. Here, though, a West in midseason form will win with his queen and return a trump. South will then play a club to his king, but West will take that and lead his last trump to defeat the contract.
Yes, that is unlucky, with West producing both club honors, three trumps and the killing defense. But it is much easier to lead a club from hand at trick two. Then a club ruff in the shorter trump hand for South's 10th trick cannot be prevented. Those club honors are black herrings.
And West would be left to apologize for failing to find the lethal initial trump lead.